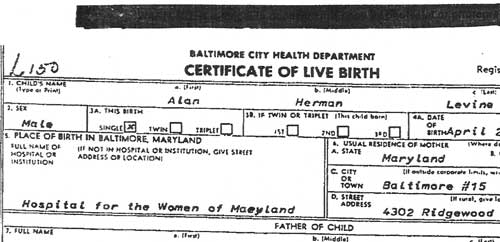 Strange as it sounds, today I had to email my Mom a scanned copy of a copy of my own birth certificate to prove her own birth record. And perhaps the most challenging was helping her decode the email attachment so she could print the record.
It goes like this.
Her Florida drivers license is up for renewal and some new regulation (she says) requires her to bring a copy of her birth certificate. The problem is that back in 1929 Baltimore, records were not so rigorously recorded. The daughter of immigrants, whom-ever took the record information probably could not understand the name her mom reported, so Mom's birth certificate lists her as Baby H********** (Polish sounding name); a later attempt by her parents to update it recorded the wrong name- her name is "Alyce" but the thick accent ended up with her official name being listed as "Ellis".
But apparently, there is some way for the Maryland authorities to generate a legal certificate if her name appears on the birth certificate of one of her children. I had one in my safety deposit box, so I drove down to Payson today (after rummaging 20 minutes to locate the darn key), and got a xeroxed copy that I planned to scan at home and email.
Interesting information I see in my own Certificate of Live Birth (whew, I was born alive) – coming into this world at 9:22pm in April 1963 at a hospital that no longer exists. Also interesting to note is that it lists my father's occupation, but there is not even a blank for one if my mother had an occupation. Yes, not that long ago…
Even more sobering is noticing that my parents were 36 and 34 when I was born, getting to 10 years younger than I am now. That makes for some kind of time distortion field effect.
So I got home, scanned the docs and emailed them to Mom, knowing full well she suffered with attachment challenges (the email kind). Sure enough, I get a call, when she tried to print they came out way too small. I was trying to sort out what the problem was, and dreading trying to remotely troubleshoot her NetZero web based email.
But we persevered, What worked was I was able to log into her account, see the same screens– and OMG what an interface travesty that is, I do not blame her confusion. It showed only small previews of the images, and to print them, I had to talk her through the steps to download the image (and ignore some Windows attempt to have her upgrade some crappy photo software package). And then since we had to wait 4 minutes to download the files via her dial-up modem, we had time to chat 😉
Finally, she had the document printed, and she was rather excited (and technically worn out). I tried to soft pedal offering regular tech support, but she is my Mom, I will oblige.
After all of this, she should be able to get her license renewed. Now if I wanted to keep her off the roads, I might have…. just kidding.
Mom, consider yourself certified.