Again, nothing warms this web dog';s heart that accidentally discovering something useful. With my two daily photo habits (@dailyshoot and 2010/365 photos) I am continually having to seek out specific bits of information.
For dailyshoot I check in the morning what the assignment is usually by a visit to their twitter page or checking an RSS feed). For naming of my daily photos, I use a title based on the day number of the year (today is the 64th day of the year). I usually flip open a Mac OS X dashboard widget I found 2 years ago, but I have to enter the date for it to calculate the day of the year.
In one tweet, I now have a more elegant solution, and learned something I did not know was possible.
@dailyshoot shared this message:
Tip from @lyzadanger on a great way to keep up with the Daily Shoot: http://bit.ly/apTnnc Thanks Lyza!
Basically, you use the Safari browser (just to set these up) to visit the Dailyshoot assignments page, and select Open in Dashboard from the File menu.
This presents an interface where you can size the portion of the page you want to use, in this case, the top left is always the most recent assignment: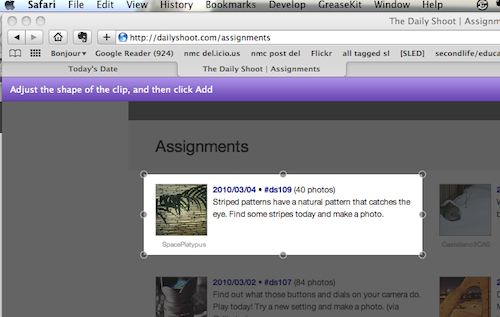 and when you click Add on the far right, it makes a Dashboard widget from that web content- so when the site changes tomorrow, my widget will as well.
Wow, who knew one could do that? Well I didn't.
So I went one more, and I looked for a web page that would show the current date as a day number of the year- This site from Calendar Date shows more than I need, but I clipped it to show the calendar, current day highlighted, and at the bottom in gray text it gives the day number.
Now I have both tools on my dashboard
I don't know what else I might need this for, but knowing I can clip bits of the web on my dashboard is a nice little trick to have in the MacArsenal.