In which a large corporation beats me down by ambiguous instructions, rude representatives, and hiding customer relations….
Canon has $200 of my money and they refuse to give me what is mine. Having tried multiple times to comply with unclear instructions to process a rebate, they are holding onto my cash. I want it back, but failing that, I;'d like someone to draw to their attention that the old old adage ">
You know how Kathy Sierra used to urge companies to help their customers get out of the "suck" threshold? I cannot imagine a company making me stuck in suck more than Canon.
Circle 0. Before Entrance to Hello, When There Was Hope For Salvation.
In January 2010, with some extra cash available, I decided I wanted to purchase a high end photo printer, in the interest of pursuing my photographic aspirations to hang them somewhere in public. Given my commitment already to Canon products (this year purchases of a T1i and a 10-20mm zoom lens) I found favorable reviews of the Canon PIXMA Pro9000 Mark II and Canon PIXMA Pro9500 Mark II printers — the deal maker for me was B&H Camera was offering a $200 Canon Rebate on the higher end model, coming close to the price difference.
Rebates are fairly easy, send in a sheet and a proof of purchase, and in a few weeks they send you your moolah.
In my dreams.
Now here is the crucial issue- note the instructions in the rebate form: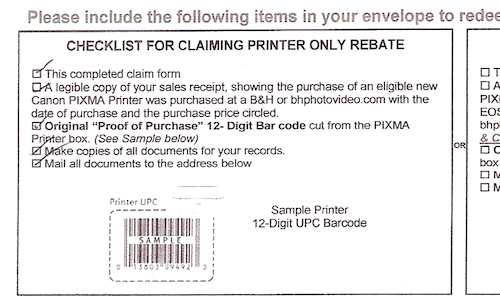 The rebate checklist includes:
Original "proof-of-purchase" 12-digit bar code cut from the PIXMA printer box
Note- does it say "white UPC code with serial number"? The box contains 3 copies of the same UPC code (I do know what a bar code is!); one on the side, and two on the inner flap. They all have the same exact 12-digit bar code. They all are original from the box.
So me, thinking, that I want to re-use the box when I may want to move the printer, that its okay to use one of the codes from the inner flap so I don't have a hole on the side– I sent this UPC code: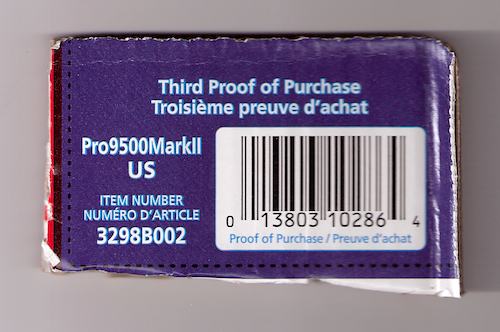 It says "proof-of-purchase", it has a 12-digit bar code, and it came from my box.
Wow, was I ever wrong.
Circle 1. No Rebate For You (No Explanation Either)
Weeks go by, and in my mailbox comes a thin letter from Canon. Walking home from the mailbox, I start day dreaming if I will use the $200 to but more ink, paper, or even towards a new lens….
Alas, it was not to be. I got a letter: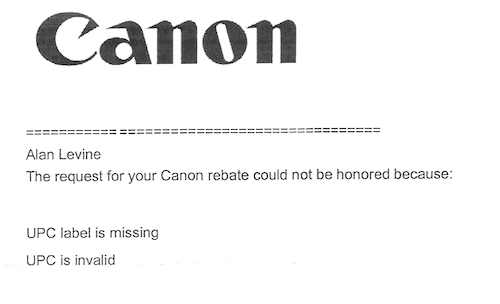 The letter says, "No check for you because":
UPC label is missing

UPC is invalid.
Not only is that cryptic and not an explanation, it also makes no sense. If the UPC label is missing, how can it be invalid? But quibbling over grammar aside, I called the Advertising Checking Bureau to talk to a human.
The woman I spoke to said I sent the wrong UPC code. She said I needed to send the white one from the side of the box, and I had sent the other one.
Here is the important detail- she said I needed to send the White UPC code. To me that's a bar code, right?
So I thought, okay, that's easy, I'll just go up to the attic, get the box down, and send them the white UPC code: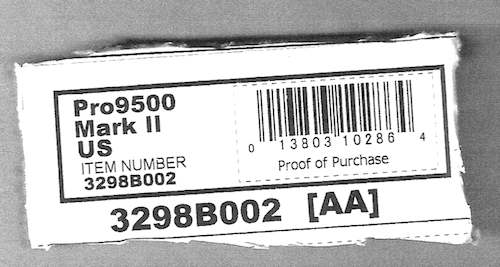 So I put in the envelope and mailed it off, thinking, okay, I might get my $200 in a few weeks.
Circle 2. Wait a Minute- I Followed the Instructions
The day after mailing off that letter, I started thinking about the rebate form- it never specified which UPC code, white or blue or punk of purple. It just said UPC code.
That seemed wrong. I followed instructions, which were not specific. Why is it my problem?
Circle 3. Go Ahead, Try and Find a Customer Service Contact at Canon's Web Site
I spent a good 20 minutes poking around the Canon web site(s) and could not locate a customer service contact, not an email, not a phone number. I could not find an address to send a letter of explanation. It's as if they don;t want to have me contact them.
So I dug around, and found a technical support web form, and said, what the heck, I'll explain here and try to file a complaint. So I wrote about how the rebate was refused when I had followed the instructions, etc etc etc.
Click send, and off it goes into the ether.
Circle 4. Ask Me For What I Already Sent
Sometime later I did get an email, which told me again I had done the wrong thing.
Your rebate submission has been received. However, the following items are either missing or the information provided is incorrect . Please forward these materials to my attention to the address listed on this letter or by fax to 800-xxx-xxxx or send an email to rebates@cits.canon.com
Now I could have done this but I had already sent it in, so I responded, yes I added salt to the wound:
I have already sent the white UPC code to the rebate claims center.

But frankly this is crap. The original rebate form said NOTHING about which UPC code to send; it was not specific so I cut the red one from the inner flap that clearly stated "proof of purchase". I don't see why you are holding up the rebate as the red code I sent contains the exact same bar code.

Please provide me a postal address so I can file a formal complaint. There is not a valid reason to delay my rebate; if delays continue I will file official complaints with BBB, etc.
Circle 5. Help me By Yelling At Me?
The email must have gotten there, because I got a call a few days later. It went something like this:
Canon Lady: Why did you file a complaint? By doing that you have Canon involved, and that will delay the rebat.
Me: The rebate form was not specific; it did not dictate which UPC code to send; and the one I sent has the same bar code as the one you want.
Canon Lady: YOU SENT THE WRONG UPC Code.
Me: But they are the same… And I sent the white one to the Advertising Credit Bureau.
Canon Lady: WHY did you file a complaint? By doing that you have Canon involved, and that will delay YOUR rebate.
Me: The rebate form was not specific; it did not dictate which UPC code to send; and the one I sent has the same bar code as the one you want.
Canon Lady: YOU SENT THE WRONG UPC Code.
Me: Is there an official address I can send a complaint letter to?
Canon Lady: YOU ALREADY COMPLAINED.
Me: [click].
What problem is it of mine who handles this? I'm out $200 bucks because their instructions are murky. And then they help me by yelling?
But hey, I thought maybe by some miracle, it would work out, maybe take longer, because now they had their precious white UPC code.
Wrong.
Circle 6. You Need More than a Barcode
Another month passes by, I get another thin letter from Canon. It's the same damned thing as before:
UPC label is missing

UPC is invalid.
WTF?
I call again. The lady on the phone echos that information. I explain that I had called before, and was told if I sent the white UPC code, they would process the rebate.
She asks if she can put me on hold.
She comes back and says if I send them the serial number and the first page of my owners manual, they can process the rebate.
I say, why do I have to do that? I gave you what you wanted.
She asks if she can put me on hold.
She returns and said, that the UPC code I sent them did not include the serial number (which no one ever told me was needed).
I said no one ever asked for that. I ask to talk to a manager.
A guy coms on and says, "Can I help you?"
So now I explain the tale for the 40th time.
He asks me if I have a scanner, and if so, I can email him a copy of the bar code and he will process the rebate.
Once more I go up in my attic, hack another piece of the box, scan the code, email the whole thing to him (I piece it together with a copy of the other half I have already sent them.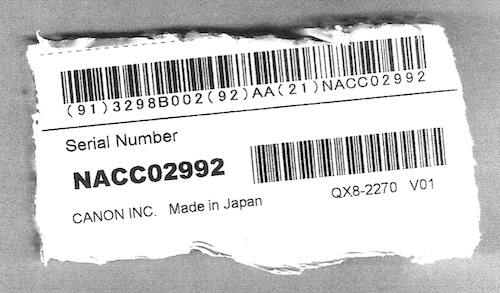 Here is what I had cut from the box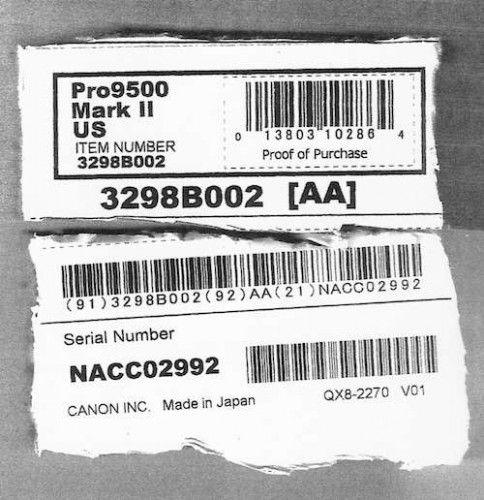 and I sent this paired with a copy of what I had sent already

I emailed this information March 29, 2010.
It's been almost 3 weeks and I never got a response.
Circle 7. Here I Sit, Rebateless
I admit defeat. I have given this every possible effort to give this rebate firm what they asked for, and they have done nothing. Last week, I sent them my letter of submission, that I admit defeat:
I have been trying unsuccessfully to receive my $200 rebate for a Canon Pro9500 Mark II printer.

After receiving a letter from The Advertising Checking Bureau on February 22 that stated "UPC label missing / UPC is invalid", I spoke to a agent who told me I needed to "send the white UPC code". I clipped that from the box. She did not say "include the serial number" she said "white UPC label" which is what I sent.

I got the same exact response on March 22, 2010. There is no explanation what you want. After a phone conversation with Eric A., he said if I emailed him a scan of that part of the box with the serial number, he would process my claim (copy of email attached). I received no response from Mr. A. so I have no idea what is being done.

This is the last effort I can make to receive my rebate. I am sending the serial number portion of the white UPC code, I am sending a copy of my owners manual, and after cutting off everything from the box that can indicate I own this thing, I cannot think of anything else to send you as proof I own this printer other than sending you the printer itself and a box with various cutout portions on it.

I hope you can figure out what it takes to send my rebate.
Apparently not.
So Canon has pocketed my $200 rebate and browbeat me with inaccurate instructions as to what they hell they wanted from that printer box.
And I am so worn out, I don't have the energy to file more complaints, so I am writing this as my own record, and to hang out there for search engines to discover (it's no surprise given their obfuscation of customer support that Canon lacks an official presence in GetSatisfaction).
If Canon ever wakes up and smells the stench of their own reputation festering, let 'em know that my stakes for compensation are now rising. For the last 3 months, they could have solved this by delivering the promised rebate.
Now… what I am asking for is two sets of ink refills for my printer (PGI-9 Value Pack) and for every month they delay, I want another one (this printer drinks it like water).
The sad thing is I really love the quality of prints I am getting out of this printer. But I am far from a happy customer. Canon, do the right thing! I'm stuck in your hell.
UPDATE: April 21, 2010 – Small Victory for Social Media, Michelle from Canon called, they heard, and they are FedEx-ing my rebate check. It's the right thing to do, yes, but I sure hope they look at the problems that vague instructions create.
---
Featured Image: