Hey Bud, you gotta see what's on my Air Stash… just don't let Mr Hand get the SSID…
It's hard not to reach for this metaphor with something called the "Air Stash". My NMC colleague Keene Haywood told me about this a few weeks ago.
It's described as a "wireless flash drive" for your iPhone/iPad, but I think of it also as an ad hoc networked shared drive.

cc licensed flickr photo shared by cogdogblog
The device is about the dimensions of a classic iPod, with a USB prong on one end, and a slot on the other for an SD card. What you do is connect it by USB to your computer, insert the memory card. On your computer, you just copy the files you want to share, load it up with videos, music, word docs, PDFs, spreadsheet files…
You just need the computer to move files onto the Stash. Once disconnected from the computer, you just push a button, and anyone in near distance (room sized) can access the media on the drive through wireless. It generates its own SSID, and on your iDevice, you join the network. If you navigate to http://airstash.net/ while connected, you get a directlry listing of the files on the SD card, accessible on your iThing: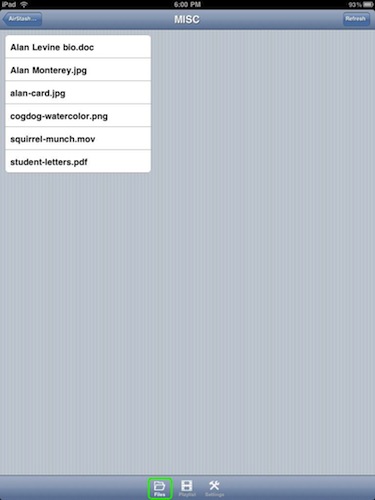 The Word file I could open in Pages on the iPad and then edit. Pictures open in a viewer, and you can tap to load the image into the Photos app. Videos just play from the Air Stash.
So on one hand, it could be a way to transfer some files TO an iPad without going through the iTunes sync circle. But you cannot send filed back to the Air Stash form the iPad- its one way.
One way to use this is dealing with say, a limited amount of memory on an iPhone. Rather than moving movies to the iPhone via iTunes, again, you can just play it from the card, so it can act like an extra disk drive. I can see some use for this as my 16Gb iPhone has room for maybe just one or two movies.
I can see some use by educators as a way perhaps to share some media for a group project. Rather than emailing images and video or documents, one could set up an ad hoc network to share it via the Air Stash. Or maybe it could be used for some mobile projects to share data in the field when there is no network.
I'm just brainstorming; it's an interesting concept- it would sure get more interesting if it were allowed to do two way transfer (moved data onto the Air Stash from a remote device. It is supposed soon to be accessible on any device with wireless, so it should not be limited to iThings.
Just don't let Mr Hand catch you with it!