You gotta tweet what you ask for.
I believe I am mixing my metaphors, or just babbling at the end of a full weekend, in denial of the looming Monday ahead. That's what makes it nice to have something novel to play with.

cc licensed flickr photo shared by cogdogblog
I've known Jared Bendis since the 2003 NMC Summer Conference, when I was just an attendee, and he's a super creative guy who just does not fit in any box (like his side line of Silly Services). He's presented at just about every NMC Five Minutes of Fame and always does something extraordinary presenting at our online conferences, one of the few people I know who can pull off doing a one (or zero) slide presentation.
I keep digressing.
I've been seeing Jared's tweet's over last few weeks about his first iPhone/iPad apps going through the AppleStore review. I chirped in tonight asking what his app was, and knowing it was by Jared, I would have bought it anyhow (I made a reference to helping him get rich), but he quickly offered a comped version of his iPad app, "in exchange for blogging about it."
Cool.
About 30 minutes later he asked if I tried it.
So I better get to it, eh?
So I got an app that I did not know what it did, I did not get any instructions, but found myself a few minutes ago launching the Five Minute Masterpiece app.
I'd call it a paint on a canvas app- you get a choice of colors from a palette, and you touch to paint on the screen, and it gives a paint-like texture to each touch, not always the same exact color, like dabbling with a blob of paint on your finger. With some experimentation, you can fill areas solid, swipe and smooth others.
Just out of the blur I tried to see in my mind a bridge I photographed today:

cc licensed flickr photo shared by cogdogblog
and in about 4 minutes had dabbled this version: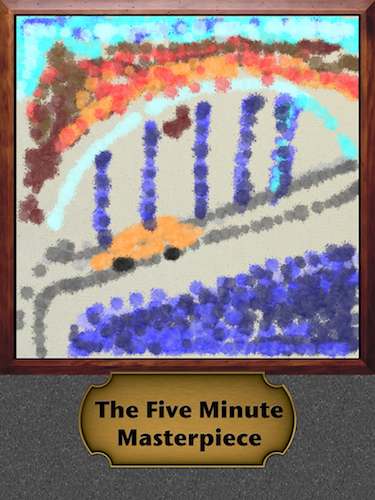 Okay, it is an interpretation. What we are working with is trying to create in the scope of a limited range of tools. It kind of reminded me of one of my early Shockwave apps in the 1990s, Ruby's Art Pad (it still works! umm in a browser other than Chrome..).
Jared has a random mode, which splotches out dots on the screen. I stopped it, and used it as a background, painting a flower type thing over the background.
You can set the current drawing to play back, a full instant replay of how the thing was created. That would be interesting to see how someone who really knew how to paint did their work.
And just because I had a few more minutes, I did one in honor of tonight's last eposiode of Lost (I don't have TV so am waiting 2 days so I can get it on iTunes. Do not spoil it!), seing if I could write any text (barely).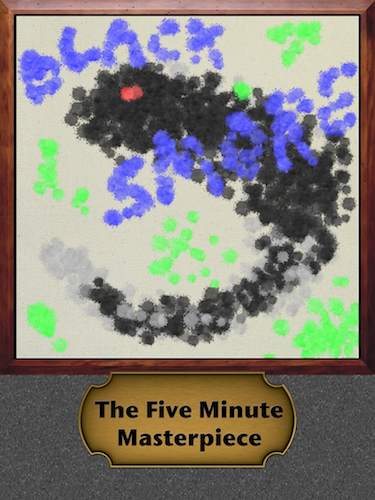 Having no idea what it takes to even build an iApp, I still have to give Jared a huge pile of credit for making one, something I doubt I ever will. Since he is still working on it, if I were to be able to request features. give feedback:
Make an option to mute the sounds. They are fun at first, but the SPLORTCH sound every time you pick a colot gets old.
Maybe make an option to vary the size of the paint blobs?
The "?" button dod not work to shuffle the colors.
Maybe offer a feature to select from a list of frame types for the saved picture.
Maybe offer a feature to add a caption of explanation to a saved picture.
Give it a try- look for the Five Minute Masterpiece in the AppleStore or look for it on the Lemming Labs web site (if you know Jared, you might have guessed that is one of his URLs!
Thanks for sliding me a copy to play with, Jared. Hmmm, Five minutes… might this be your Five Minutes of Fame preso at the NMC conference in June?