cc licensed flickr photo shared by Jenny P.
If we just lived our lives out by setting, pursuing, and meeting objectives, what a sterile world it would be. Here;s to what you learn when you are not expecting too, and for surfing by serendipity.
Serendipity is following the curious post titles in your RSS reader, leading my to Andy Rush sharing his discovery of a utility called Evom (well that was a nice find there— ).
But since Andy played around with the backwards spelling things– I thought it would be fun to write a bit of my comments in reverse text.
Now I thought I did this in BBEdit before, but I think I did something insane like a grep search to put each letter on a separate line, a reverse line sort, and a search and replace on the line return characters.
Surel;y someone has created something like that already– googled a bit on on reverse text generator, and what do you know? The first hit is Lucky-
The Reverse Text Generator does not only backward, but also Flipped, and Upside Down:
So playing with my opening sentence, I can do things like:
.ytipidneres yb gnifrus rof dna ,oot gnitcepxe ton era uoy nehw nrael uoy tahw ot s;ereH .eb dluow ti dlrow elirets a tahw ,sevitcejbo gniteem dna ,gniusrup ,gnittes yb tuo sevil ruo devil tsuj ew fI
or
Fi ew tsuj devil ruo sevil tuo yb gnittes, gniusrup, dna gniteem sevitcejbo, tahw a elirets dlrow ti dluow eb. Ereh;s ot tahw uoy nrael nehw uoy era ton gnitcepxe oot, dna rof gnifrus yb ytipidneres.
and the ever useful
˙ʎʇıdıpuǝɹǝs ÊŽq ƃuıɟɹns ɹoÉŸ puɐ 'ooʇ ƃuıʇɔǝdxǝ ʇou ǝɹɐ noÊŽ uǝɥʍ uɹɐǝן noÊŽ ʇɐɥʍ oʇ s؛ǝɹǝɥ ˙ǝq pןnoʍ ʇı pןɹoʍ ǝןıɹǝʇs ɐ ʇɐɥʍ 'sǝʌıʇɔǝɾqo ƃuıʇǝǝɯ puɐ 'ƃuınsɹnd 'ƃuıʇʇǝs ÊŽq ʇno sǝʌıן ɹno pǝʌıן ʇsnɾ ǝʍ ɟı
And this is just one of 20 free tools in the TextMechanic's toolbox– a lot of them extremely useful.
So a little bit of goofing off, and I find something like this.
As Rick Schwier said…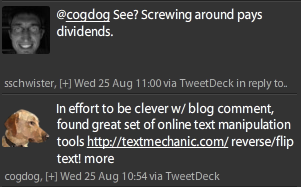 But more so, it always sends a ripple down the spine, when I stare at this screen and knowing I am looking at a doorway to the infinite– not that the internet is really infinite, but relative to what I can know, see touch of it– it might as well be.
And there is infinitely more to know and find than what I can store in that grey spongy mass upstairs.
Goofing off is part of my method. And blecch to all my grade school teachers who scolded me for that.
Bleccch.
I ride the InfiniVerse.