A tin full of stuff. Scout knife. Cuff links. Engraved bracelet. Puzzle game.
A tin full of my Dad's stuff.
It's just stuff.
But it was my Dad's stuff.
Friday marked the day nine years ago Morris Levine left this earth. You don't forget your loved ones, but their presence ebbs and flows without much regular pattern, except twice a year. First is May, for his birthday, a day I wish I could have back again to celebrate, and late August (2 days ago), the day I wish I could give back again.
Can it be nine years? I try cycling back to where I was, who I was, what mattered in August 2001. There was no user's guide (and if there was I would not have read it anyhow) for dealing with your parent's death, especially when it was the cancerous impending one that just unravels in front of you. My way to deal with this time was to tell his story, in a web site, started before he passed away, and finished afterward. My way is to do write something, photograph something on these two days a year.
Nine years? I play with math. I am now the age my Dad was in 1974. He still had another 15 or 18 years of work before retiring. He was in his rhythm of cutting the grass and washing the car. It was maybe a year after the oil embargos; I remember him waiting in line to buy gas that was suddenly much more expensive that before (but insanely cheap compared to now).
But those are just the snapshot bits I have as watching him as an 11 year old kid. What did I know of his thoughts? Dreams? Hopes? Worries? I have the hardest time trying to imagine my father as a man the same age I am now. I cannot warp time like that.
So the stuff in the can came from my Mom after Dad died. I don;t know why, but it helps just to open that box every now and then and look at it.
There was something else in there- his last wallet. Hah, what can define a man more than his wallet? It is something that sits close to him every day ;-). I don't think I had looked at it before; it looked empty. But flipping it open, I found some artifacts in the back pocket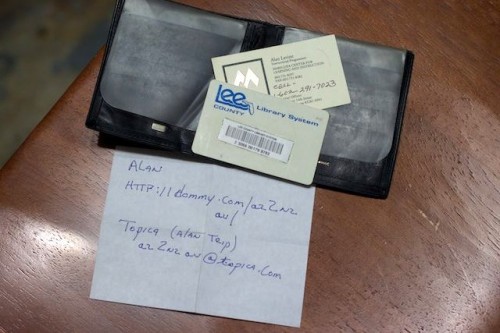 He has my business card from the job at I held at the time (at Maricopa Community Colleges) with his familiar, careful block letter writing (something I did not inherit) with my cell phone number at the time. There his his Lee County Library card- he got a lot of joy in retirement volunteering at the library. That's what I knew of that time, but did I know what that joy was about? Did we ever talk about it?
And then the hand written piece of paper with my coordinates from the year before, in 2000 when I had my sabbatical visit toi New Zealand and Australia, and more or less blogged it (before there was blog software, this was hand writing HTML posts and uploading photos every day) on my own web site http://dommy.com/az2nzau.
He followed my web site continuously from his home in Florida, even printing it off into a thick folder, a paper archive of a web version of a trip. It's one of those things he did that silently spoke in volumes.
There again, that hand writing, so… Dad-like. Most of his communications to me were in hand written letters, pages and pages where he expressed himself more comfortably than talkin— wait a minute, now I know something perhaps I did get from him.
We did talk though on the phone, and in the Arizona portion of my life (after 1987) we had this tradition of me calling him (in jest) "Old Man" and him calling me "Junior". That I can feel, in my ears, in my heart,
So now I sit here trying to unravel that time for him has stopped, frozen in memories, photos, words, a tin full of stuff, yet for me it flows on, to some place I cannot yet see. I will, in time, like he did.