I'm coming off of a fantastic closing session at the NMC Symposium by the Future by Ruben Puentedura on Of Maps, Systems, and Stories: Visualization for Sustainability (we are still processing the recorded audio but there is a gold mine in his slides). Ruben's examples and ideas on visualization have me inspired to carve up some time and get down to learning to use processing.
Until then, I went back to my RSS feeds in visual design/info-stuff-matics and within a post or 10, found a reference to Hipmunk, which provides a fresher, visual way of doing flight planning as opposed to the list views we see elsewhere: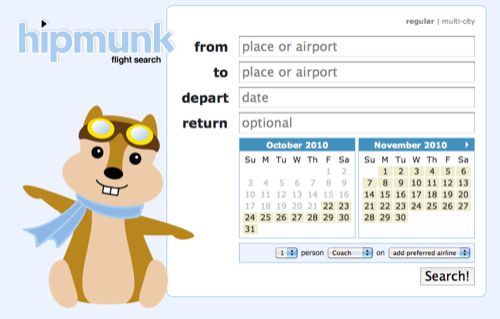 We make it faster and easier to find the flight you want.
Most flight search sites haven't changed in years. They have an intimidating search page and endless pages of flight results. Finding the right flight often takes all afternoon""or all week.

At Hipmunk, we make your experience a lot better. We're building better interfaces for searching, browsing, and filtering your flight search results.
So like any other site, you enter your travel dates and destinations, and choose to maybe see all airlines or just your favorite. As an example, I plugged in some fake details for a trip I might do next month to fly from Phoenix To Baltimore, maybe in a quest for some great seafood.
Rather than the Long List I might get elsewhere, I get a visual set of options:

Each airline is color coded and labeled, and the flight info is laid out on a timeline, so you can quickly see how much time and when you will be traveling, including layovers. Even more, you can grab the vertical bars on either end, and narrow the time of day you want to travel- and it does this right in the page, for example, if you do not want to see night time or late in the day flights:

On the right side there are some little numbers on a menu that when activated says "show worse" which looks like it shows alternate flights on the same airline that may have longer routes (I may really want to make a stopover in Denver rather than a direct flight, or in this case, maybe I need to have a longer layover in Houston so I can fit in a conference call or a stop at the great wine bar there).
Clicking on a flight brings up the full details: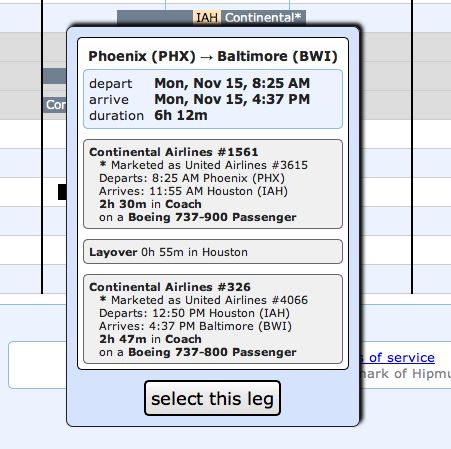 And at anytime, you can click the BUY buttons on the left to (I am assuming) go to the airline site and make a purchase (hopefully which will go better than my awful experience buying at United)- they also seem to be color coded to show better prices.
I only did a quick run through of Hipmunk, but it truly seems to offer a more efficient way to at least identify the flights you want. I often use Kayak (especially on trips with other than round trip stops; though on my last round the world trip through 5 different destinations, no one booking could do it all) -but often on Kayak, you get like 20 pages of results (yes I do filter down by Star Alliance or flight times, but you do get more information than you can process over several screens).
Right now, Hipmunk is looking very hip to me.