What happened to brave men like Jake W. Burns?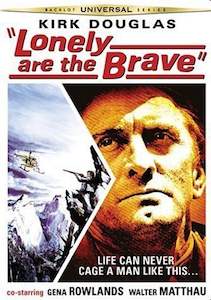 I found out tonight, watching my newest DVD, Lonely are the Brave (1962) which, IMHO is a completely under-rated classic.
The tag line is "Life can never cage a man like this…"
I watched it because, like the star Kirk Douglas, had enjoyed Edward Abbey's The Brave Cowboy, and Douglas, already then a big star, wanted to make Abbey's story into a movie, but it took a long time to convince the studios. Douglas wanted to call it "The Last Cowboy" but the studios forced this cheesier title.
Douglas' character, Jack Burns, is the idealized version of Abbey's self image- a man who lives on the land, at home in the desert or mountains, has no address, no social security card, no license, a loner.
I didn't want a house. I didn't want all those pots and pans… 'Cause I'm a loner clear down deep to my guts. Know what a loner is? He's a born cripple. He's a cripple because the only person he can live with is himself. It's his life, the way he wants to live. It's all for him.
But he's not a cold hearted loner– he does have people, and when Burns hears of his friend Paul who is in jail, Burns has to Do Something.
That's the beauty of the film (and the story) what opens like any other cheesy western, that turns quickly as the cowboy rides into the outskirts of Albuquerque, and confronts the modern world he is not a part of. But he's not a complete loner as Paul is his childhood pal, who married a woman Jack likely desired, and has affection for their son. In the book, Paul was in jail for being a draft dodger, in the movie, it was made a little more of the times (and even more so now), as Paul is in for lending aid to illegal immigrants.
Burns has a clear plan- he is going to break into jail to help his friend. He does this by geting drunk in a bar, and starting a fight (a crazy fight scene, with Burns fighting with one arm and losing badly), with all people, a one armed man (played by an actor who was actually one armed and played that character in The Fugitive). Burns gets in jail, with hacksaws hidden in his boots, and tries to talk his friend into breaking out, with some fantasy of taking Paul and his family to Mexico. But Paul wont have anything of it; he knows breaking out would make him a fugitive and hurt his family. Paul is rooted in the same ast as Burns, but has adjusted to the modern world.
Before busting out, Burns has an altercation with the tough jail cop, played so nastily by George Kennedy. This sets up the chase section of the movie, where Burns rides his horse up and over the mountains behind the city, and is chased by the cops lef by the enigmatic Sheriff played in that characteristic way by Walter Matthau. He seems in many ways, a lonely man among his staff of stooges, yet full of quirks (his observations out the office window) and lines like:
You'd think we're chasing a ghost… an invisible horse and an invisible cowboy. Harry, throw me that canteen. I haven't got enough spit left to wet a stick of gum.
As shrewdly noted by Steven Spielberg in the DVD extras, the film plays this contrast between Burns, a man of the land who fits in with the landscape as much as the rocks, trees, and cougars versus the cops, who always seem awkward, quirky, and do not seem comfortable out in the mountains. Man who is nature compared to man vs nature.
This is an an all star movie, but never got the pay of it, and all when many of these actors where in their prime, or in the ascendency. Actually, according to IMDb, one of the helicopter pilots is played (un-credited) by Bill Bixby, his first film role.
The seemingly un-parallel plot line is the Acme truck driver, Hinton, played by Caroll O'Conner, full of fatigue as he is driving his truckload of toilets from Missouri to "Duke City" (aka Albuquerque). It is this that is the real contrast to Jack Burns, the Cowboy, man of the land vs Hinton with his completely urban truck load.
Really, the true star of the film is Whiskey, the wily horse that Burns has his real relationship with. They can be at odds with each other (like the opening where Whiskey throws off the saddle blanket), but are also committed to each other. Burns walks that horse completely up a mountain, and at a point knowing it would be better for them both to leave the horse behind, cannot abandon Whiskey.
I've probably said to much to give away where the story goes, but it is riveting. It's not a western and its not an anti-western, but as an early piece of Abbey's writing, does set up that contrast of the rugged individualist and the machine of society. But its never quite this versus that– as this small quote from Abbey's Confessions of a Barbarian that I am also reading — Abbery can have these river long sentences of passion that flow over several pages but also these cryptic gems:
There's only one good thing as good as society — solitude (And conversely.)
This is a new all time favorite- here's the trailer: