cc licensed flickr photo shared by Serenae
You gotta like the Jim Groom strategy- run off to the good life in Italy, and let people like Tom Woodward go craxy coming up with ideas to use in Jim's ds106 course (Tom is on FIRE, see his latest activity ideas).
My, that fence is getting painted nicely.
Who knows if the paint will stick? Its getting infectious.
I was thinking tonight about one of my favorite flickr mashuo tools- Pimpampum's phrasr. You start by entering/pasting in a text box a phrase, and it creates an interface where you can try to illustrated each word with an image selected from flickr. You get about 16 images to choose from, or can just skip the word (like what would you pick form "the"?).
So here's an easy one- make a phrasr from a song.
Pick a favorite song. Better if not common. I chose "Remedy" by Pete Murray, a song I owe my friend Wesley from Sydney who played it when he visited me here. Plus I was yelling it out the window on my drive up from Phoenix Friday.
Find the lyrics in a google search (surely you know how to do that?). I have yet to come across a sing fior which Google did nit have the lyrics.I grabbed the first two lines from http://www.azlyrics.com/lyrics/petemurray/remedy.html.
It does not take much effort in phrasr once you past the words in the box. Each word hands on a time line, and for each, you can choose the one you want. Then click publish, and you are done. The thing it lacks is an embed code, or even a way to find the URL for it, unless you share it to yourself via email… or if you go to the archive page, you will find your among the most recent ones added.
Played back, it flashes the words with the pictures you picked (try it):
At the end you get a screen that shows your images selected, and options to replay or share.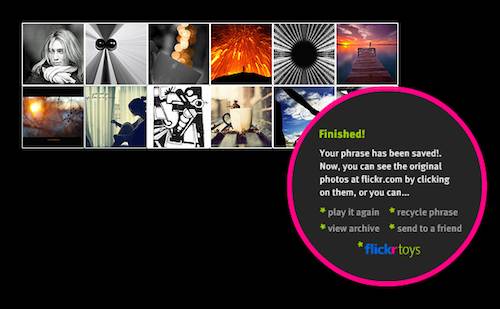 I like phrasr because its pretty simple, and while one could say it is bounded because of the limits on the selection of images, that's where the creative fun happens. It would be nice, sure if there was an audio track, but there's enough to play with putting images to words.
The thing I wonder/worry about with these types of activities, is how to help people move past the literal, caption making approach to working with images (and heck, I fall back and go literal most of the time).
So here we go, cranking out the ideas, spraying on the fence, while Jim just sits around cutting onions. And damn, no one cries over onions like the Bava, NOBODY (although D'Arcy tries)

cc licensed flickr photo shared by cogdogblog