We have a transmission from Agent 19 that The Secret Revolution will be soon not so secretly spreading its word:
http://secretrevolution.us/secret/36/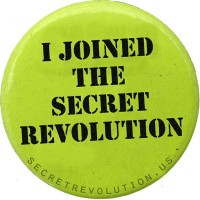 What's this about? Go to the link, damnit. Please.
Pretty please.
This is a second calling for people who, while wishing for the Big Changes in Education, are doing it at their own level, either inside or just outside of the official lines.
How can you help? Share a story http://bit.ly/secretrevolution (hoping in my most fervent ways to get a small fraction of the response Alec Couros does)
Beter question, why should you care? (a.k.a. "WTF?") See Prop Up the Revolution