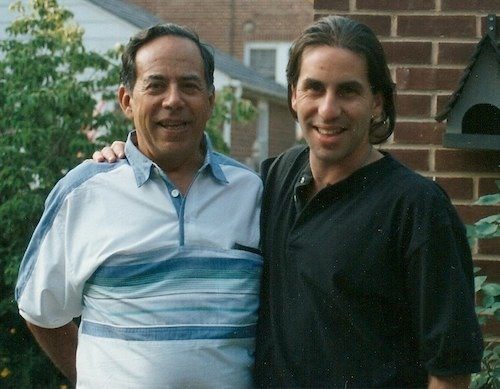 It's just a Sunday, lazier morning in, longer coffee time at the kitchen table. The phone rang and Mom said, "Happy Father's Day!"
"But Mom, I'm not a father…"
"Yes, but you have one."
She says it in present tense, darn she is savvy. If I was thinking of today, I might call it Father-less day, given Dad passed away 10 years ago and I am not really much in touch with my step kids any more.
It's just a Sunday.
But while I cannot talk (directly in conversation) with my Dad, I still have a Father. Of course.
I told Mom something she would enjoy from my camping trip last weekend. When I had set up and was relaxing in the forest, a monarch butterfly flew right over my table, circled, and moved on. Thinking of Mom, who has this sweet saying about butterflies holding the spirits of those you loved who have passed on, I told her I said, "HI Dad."
She liked that. I did too.
I have a new batch of old family photos- my sister recently visited Mom and helped her organize box of old papers and photos, and Harriet sent me a few more that she scanned. The one above was I believe in 1994, when I visited in Baltimore. Well into my adult years, I still did not even have much of an idea (besides the basic obvious) that Dad would NOT be there; he always was.
For another 7 years; if only I knew, I might have…. well that is useless.
So when Mom said she would try and call me once a week on my trip- "I don;t want to nag you too much," I said right away, "Mom, this is something you say to me– I only have one Mom– you can call me every day if you want."
When I think of Dad at his happiest, it was on the beach at Ocean City Maryland, our regular August vacation. We would go to the same exact place every summer, The Beach Rider apartment, around the corner from Phillips Crab House.
Dad loved being in the surf, or just turning tan on the beach, showing the reason his nick name as a young dude was "Blackie" (and that was the name my Mom always referred ti him, kind).
There was one day when the water was really rough, probably not good for little kids in the waves, but he was out there. He came back three times in one day with one of these perfect conch shells (Mom still has them).

cc licensed ( BY ) flickr photo shared by cogdogblog
Most of the sea shells on this beach were ordinary bivalves (clam-like), the storm waters brought in these big ones, which he managed to grab with his feet. He found three, in progressively larger (or smaller) sizes- just like us three kids. I was the little shell.
I felt like I was Son of Superman.
My sister reminded me later in that week, he found a $5 bill floating in the surf. He dried it out on the beach, and likely bought us ice cream.
But I really remember the times on The Raft (photo above), these army surplus inflatable heavy duty rafts we had, not the cheap plastic inflatables… we must have had the same ones for 15 years. I have the memories of him showing me how to ride the waves, and letting me sit on top while he would swim it out, in waters above his head, to the place beyond where the waves even started (where the lifeguards would blow whistles at you).
And that feeling, being on the raft, a little fearful of deeper water, and That Big Wave That Could Come and Crash on You, that I was very safe in the hands of The Man with The Raft.
He did not converse much, but he smiled a lot. And he was there.
… is there, in my memory.
My Dad is the man with the raft.