Now this is getting cool. After posting of my plan to follow Dean Shareski's learning project, I started with my video announcement of wanting to play blues harp (and not have it sound like dying dogs).
Bryan Jackson, gifted with music and generosity, responded with a first video lesson for me.
So I set out with the recorder on today (just Quicktime player on my MacBookPro) to follow along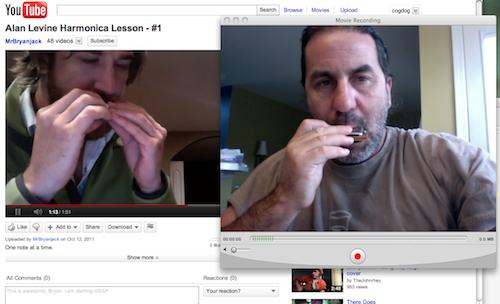 I also found some of the free content on Harmonica Lessons.com where I found some useful tips on breathing (it is not sucking and blowing, eh?).
And now, in my second video, I tried to follow Bryan and practice the breathing too
Getting that one note is hard, but I'm going to keep practicing. There are about 2 million videos out there, like OZHarp who starts with a tiny kid playing it better than most of us
http://www.youtube.com/watch?v=HZJ3ixVZJv8
That's all for now, I have to just take some time next week and practice. Learning by doing. And not quitting. That is the plan.
You can follow this series (if I remember to tag it correctly) via http://cogdogblog.com/tag/harmonica/
Thanks Bryan, this is cool to have a personal coach out on the youtubes!