Hmmm, I am not finding too many answers to some funky behavior on my MacBookPro. If I was paranoid, I might be taping up the windows, but am, more concerned about being able to continue to do my work on the haunted machine.
For the last 2 weeks, I have noticed when using Tweetdeck, when occaisionally I minimize the app in my dock, there is a lingering back window that is labeled "Tweetdeck Update". I've seen it but not paid much attention.
But today, I noticed there was a different one behind the main screen, and I barely managed to get a screen shot before it disappeared: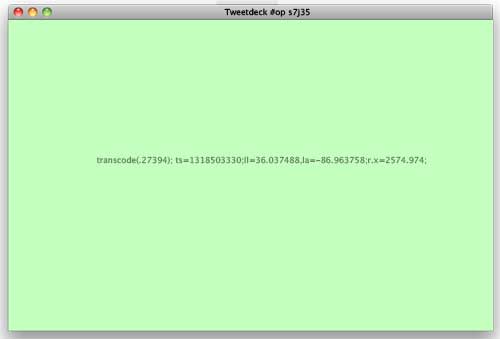 Some sort of programming code? functions, maybe memory addresses? is ts = timestamp??
Any clues? I really cannot afford to do anything like rebuilding the machine while on the road. I just want to edit photos, make ds106 MacGuffins, listen to ds106 radio…. all the important stuff.