cc licensed ( BY SD ) flickr photo shared by noii's
Since Michael Branson Smith's ds106 class is moving into the audio portion of the course, I devised a new assignment for the audio section.
And this is something I need as well in my own adventure to find the Center of the Internet.
So here is the gist of the assignment.
Like some people use special whistles to attract birds, your task is to create an 30 second or less audio file that might be used to "call" a particular character from a movie, tv, or real life. It cannot feature voices, but sounds only. Share a description why this sound would be attractive to the character (be inventive, write a story about it).
So in my case, I am desperately trying to attract the attention of Dr Oliver, the character who is driving ds106 students on a Journey to the Center of the Internet. Looking at this character in the videos: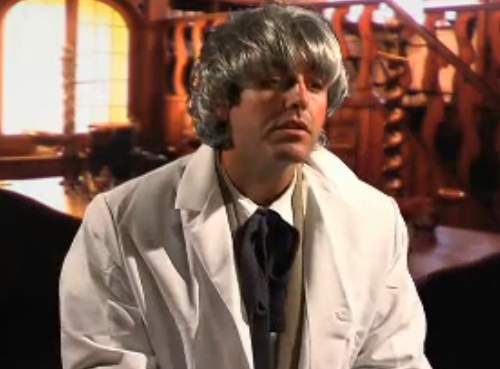 My sense is he likes the sound of martinis being mixed and people fawning about him ar cocktail parties. Here is my Bird Call for Dr. Oliver:
My recipe was to search for "cocktail" at Freesound.org. I downloaded 2 files, one of a martini being mixed and another of ambient sounds at a party.
I import both tracks into Audacity- sliding the party audio to the right (using the Time Shift Tool, double arrow icon). I selected the party music out to 30 seconds, then use the trim tool to delete all the other parts of it I don't want.
I wanted some overlap with the party sound to fade in and out- in this case I use the "Envelope Tool" (2nd icon top row of the tools) which allows me to adjust sounds levels in the audio by placing hinge marks: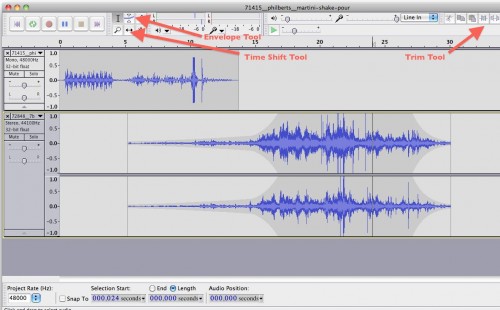 So what sounds can you mix/create to make a Bird Call for a character? How would you call Dr Oliver? Can you please try this or any other ds106 assignment to get his attention? Please?
CALLING DR. OLIVER!!!!!