cc licensed ( BY ) flickr photo shared by cogdogblog
Yes, it is so- this LG Thrive is my (temporary) replacement for my iPhone that lept over a cliff this week.
It is a Droid.
Frankly the fervent fetishing of this phone over that phone tires me (though I really want the one that starts with "i"). Here's the reasoning… The nearest AT&T stores, even the ones within 30 miles, do not have the 4S in stock. I need a phone now. It seemed hardly worth it to contract in with an old model. I am more than 30 days out from being eligible for an upgrade.
I could have gone to a Verizon store, but with future plans for international travel, a CDMA phone makes zero sense, even if the US network is better.
Shane at the local AT&T outlet store was helpful .I asked about replacement smart phones, and he told me the ones in his store were priced more than the ones available down the street. He rigged me up with an AT&T sim card, and off I went to Best Buy to get a "Go" Phone. I did see that they had the 4S in stock, but with a few calls to AT&T Customer Careless, I would be left paying for an early upgrade fee, and extra $150 (?).
And then I realized was told that the unlocked 4S would be out next month, and that makes the most sense for 2012 where I might have several trips out of the US.
Thus I found myself buying an Android phone. Yes, it is not the same, I miss the iOS interface, but frankly it does just about everything my iPhone could. Some notes:
The Google integration is great for mail, calendar, etc. I even got access to my entire music collection with one click.
I've been able to find apps that match what I had on the iPhone and used frequently, including Words with Friends, Facebook, twitter, Skype, photo editors, Evernote. I found a media player that I can use to listen to ds106 radio (of course there is no broadcast one). I'm only using the free apps, but the market place has tons of stuff.
The camera is not bad, and I found a really good audio recorder, even if it records in the obscure .pcm format (another addon converts to mp3)
The battery life sucks. Quickly.
I like being able to add widgets to the main screens; like a small audio player tuned into ds106, or a twitter widget for mentions. I deleted them so it would not suck battery, but nice to know they are there.
It mush have a 250 Mb sd card in there, I have already tun out of room- I will have to add a bigger card.
It is super good that when I connect by USB to by MacBookPro, I have full access to my content files.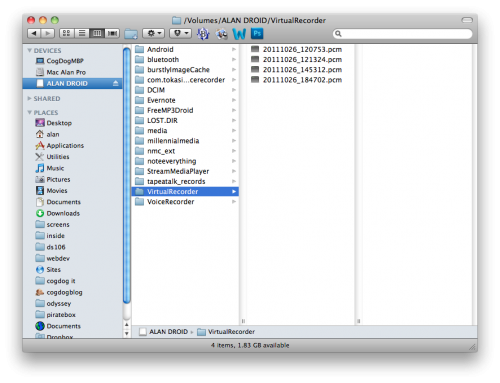 I can drag files to and from the phone with ease.
I am more bothered by this in iOS. I can understand a rationale to hide the file system from the general average user. But there is a file system in there, cause stuff exists as files. To make it totally unavailable to everyone, is, well, dogmatic. It is akin to OS X– it is a beautiful and elegant GUI, that sits atop a unix OS, which I can get to if I want to.
It pretty much does 90% of what I want it to do, and I can live with it for a few months. In fact, it makes more and more sense for me to live with and use this other OS, as we should not get so singularly locked into bogus places of platform superiority.
In other breaking news, I guess my iPhone is still alive- I am getting tweets from @CogDogsiPhone
I am so happy that my iPhone is having some fun. I do miss him, but can do oka with my aPhone.