Tomorrow is the 365th day of the year. If I was a perfectionist, I'd be distraught over having missed 15 days out of my 2011/365 photos. Nah. I spent a few nights going back and picking ones I had posted and had forgotten to add to my set. I fixed a few that were mis-numbered, and looked past the fagges where I managed to have 2 from the same day.
But my set is almost done- one more to go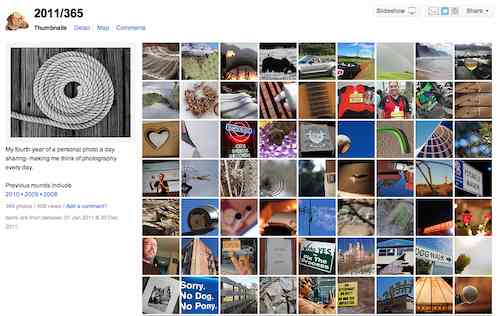 This is the fourth year of this goal; maybe at some point I might go back and see what has changed, but without a doubt, making this commitment has made photography something I enjoy working at on a regular basis.
This notion is something I played on twice this year in a few talks of "Looking Through the Lens" where I talk about the approach of getting better at something by keeping at it on a regular basis, and using photography as a metaphor for learning.

cc licensed ( BY NC SD ) flickr photo shared by giulia.forsythe
So 2012 is just about 25 hours away, what will happen? I will again be doing a photo a day. I wil update the flickr group set up in 2008– which now has 700 members. And toss a thanks to D'Arcy Norman, who challenged me to take it one, even if he does not feel like doing it anymore.
My camera is ready.