Here is yet another new ds106 assignment. There are not quite as many for the writing type, so I wanted to add to the bucket. This builds off of the Photo Translation one (I am stoked to see folks playing with it right off the bat) and uses the Words with No Translation tool.
I call this one "My Dinner with Toska" – given that Scottlo was the first off the bat to try my last assignment, where he created a personality named Toska, and playing with my utter non understanding of the movie My Dinner with Andre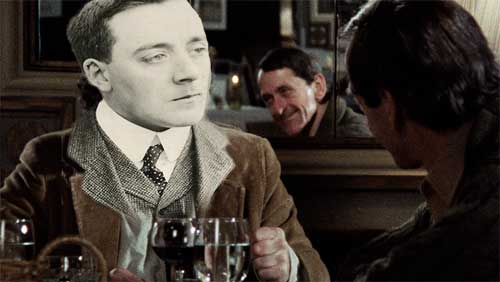 Write the script for a conversation with your long lost friend Toska, who deals with 'a dull ache of the soul, a longing with nothing to long for, a sick pining, a vague restlessness, mental throes, yearning.'. Generate five random words from the Words with No Translation tool and make sure Toska uses one word in each of his lines, making sure his words give some shade to their meaning.
The tag for this assignment is WritingAssignments310 and you can find it at http://assignments.ds106.us/assignments/my-dinner-with-toska/
My random words to use were:
Kummerspeck: "Excess weight gained from emotional overeating. Literally, grief bacon."
Zhaghzhagh: "The chattering of teeth from the cold or from rage"
Luftmensch: "The Yiddish have scores of words to describe social misfits. This one is for an impractical dreamer with no business sense. Literally, air person."
Gumusservi: "Meteorologists can be poets in Turkey with words like this at their disposal. It means moonlight shining on water."
Dépaysement: "The sensation of being in another country."
Here is the conversation from My Dinner with Toska:
Alan: Toska, Toska, it has been so long since we saw each other. Thank you for inviting me to dinner. How do you feel, comrade?

Toska: Oi oi, with all of this moving around the world I am in permanent state of d̩paysementРare we really in America?

Alan: Indeed we are, I hope you drove on the right side of the road getting here.

Toska: I did, although after a week on the beach in Tahiti, I cannot tell if the zhaghzhagh is from the cold here or dealing with the incompetent drivers in this town.

Alan: What can you do? They practically give away drivers licenses in Walmart.

Toska: Absolutely, although they turn the favor by electing all of these luftmensches to political office who can do nothing but dream useless ideas.

Alan: I might go ahead an order you a salad. I would guess you are not eating well.

Toska: What can I say? After the traic death of my chinchilla, I am bereft with kummerspeck from all of the junk food I eat. All I want to eat are are pork rinds and cheetoes. I cannot stop myself.

Alan: Toska, you are a spirit the world needs, you should take care of yourself better.

Toska: It is time indeed that I took a trip to the mountains, go out onto that edge of the lake, and soak in the tranquilty of the gumusservi; I think I shall make that my dessert after our fine meal. I am calling my travel agent now.
There you go! What will be the flow of your dinner chat with Toska?
PS- I realize for my cheesy graphic I should have pasted Toska over Andre, but his suit seemed to fit well over that image of Wallace Shawn. Sue me.