Among other TEDx Talk videos I have seen recently, the one by Luis von Ahn on Massive-scale online collaboration, Stephen Downes notwithstanding, generated a number of ideas for me. von Ahn is the man behind the idea of reCaptcha– originally a Carnegie-Mellon project eventurally gobbled up by Google. What I liked most is his example of looking differently at a problem- digitizing texts via OCR and turning a normally wasted amount of human activity- proving themselves to not be bots by entering the text into a box of scrambled letters– into a useful activity by making the captcha images not random, but ambiguous words in the proces.
The video alone is worth watching for von Ahn's description of his newest project, to translate the web into all languages via free language learning lessons (see the video or http://duolingo.com/)
I signed up for to get an invite for dulingo, but it was von Ahn's examples of humorous random examples that got me thinking, e.g. "Bad Christians" showing up on a theology site
Then he talked about how some people were setting up sites to illustrate the word combinations, such as "Invisible Toaster"
And thus SHAZAM! Here's a ds106 visual assignment idea.
Go to any site that uses a repcatcha e.g. the repcatcha site itself and recycle them until you get something that might be illustratable. The recycle button is the one at the top: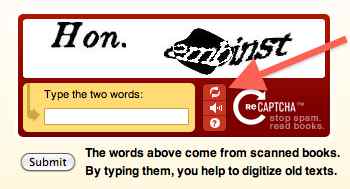 Take a screenshot of the word pair, then find some re-usable image(s) that might cleverly illustrate the words, mix them together to a single image that includes the captcha.
Now here is the thing- the reCaptcha images seem to have gotten more complex; most have one recognizable word and the other is a fragment or maybe a word in some other language (?), so you might have to be super creative.
Like this one I might illustrate someone talking to a confused waiter in a restaurant trying to order something strange:
I ended up cheating a bit- a few years back I had noticed interesting word pairs in reCaptcha and played with building a story out of the images, so I used some of the ones I had saved for my two examples.
My first one tries to describe what dentists really eat for dinner, foods that are easily chewable and always floss, hence Dentist Dinners: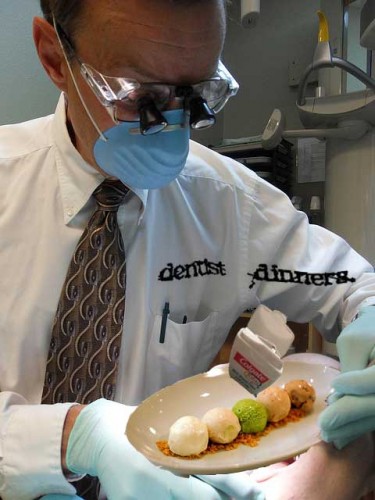 Image credits:
For captcha art number two, we see how we can ascertain that bulldogs are above taking bribes; they have stanps of approval by the US government as Ethical Bulldogs:
image credits:
So what can you make with random captchas?