cc licensed ( BY NC ) flickr photo shared by United States Marine Corps Official Page
It's simple. Do something every day, and you get better at it. Easier said than done? Well, let's look at what's happening at the ds106 DailyCreate and maybe it will take the pressure off. Jim has already written up how it has progressed so far; this is something we talked about last year before the launch of ds106 as a way of being, of doing small amounts of creativity every day as being something helpful for the creative juices.
It is based on Jim's experiences in previous rounds of ds106 with the now defunct dailyshoot site, aimed at providing small doable challenges in photography. I myself did this more than a year, along side my ongoing daily photography posting.
The DailyShoot provided a subtle but important prompt for creativity. When you are doing your own choices for daily photos, the inspiration, the topic rests on you, so maybe you shoot something familair or try the same usual techniques. What the DailyShoot prtovided was the goal for the day, something like (hey secret top, while the front page of the site is gone with an error message, the assignments are all still there):
Make a photo without composing by looking through the viewfinder: over your head, from the hip, on the ground, etc.
(dailyshoot #681)
The thing this does it that it makes you try things or subjects you would not normally do in photography, and this is a powerful thing for creativity.
So Jim and I have been talking about this in prep for the ds106 course starting in 2 weeks– and rolling through the ways to make it work like the old DailyShoot, but include other types of media types of assignments, e.g. things to do with sound, or video, or perhaps just writing. The whole idea is something that would not take much time (we think 5-30 minutes is plenty), does not take a whole lot of post production.
While I have been mulling over the techniques of harvesting the twitter API and such in wordpress, Tim Owens has gone out and built the sucker without much custom code at all… and I could not be happier not having to do the work on the site (http://tdc.ds106.us/):
And look at that, he just posted a detail blog writeup on how he did it.
Its really exciting; I think the most telling thing was seeing how people took our test video challenge of telling a joke (not reading it). That was my idea, and I totally forgot every joke I heard. But when you watch these, it adds a whole new dimension of connection to the people participating, by seeing them on camera: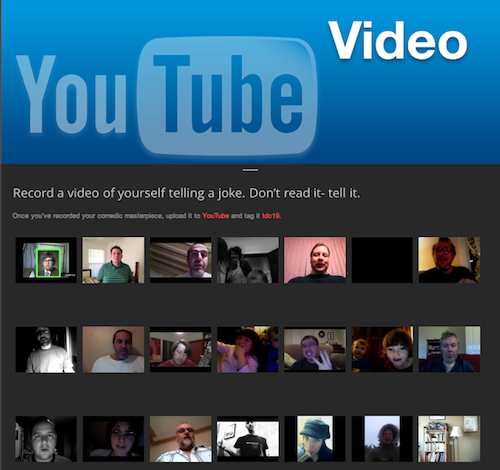 Now a few things to keep in mind about this new site:
IT"S NEW! Like beta baby, we are building (actually Tim is) the plane as we fly it.
Be sure to follow @ds106TDC on twitter to get the saily assignments, which should come out each day at 10:00 am EST
The process is different from the Daily Shoot, where the process was to upload photos to one of any several photo sharing sites, and then tweet the link to a specified account. In the DailyCreate, the tweeting is optional, and has nothing to do with content going on the site. The way you submit content in TDC (The Daily Create) is to just upload it to the designating media sharing site, and use the specified tag.

That said, we have had to be more selective on the sites where your content needs to go, so photos need to go to flickr, audio to SoundCloud, video to YouTube – we will be adding instructions on this soon.

Keep in mind that some services take longer to update to our site than others, but let us know if you think there is a problem
Each item uploaded needs the daily assignment tag (no hash) like tdc1, tdc2, etc. It would be nice if you remember to add a secondary optional tag, ds106tdc so we can attempt to aggregate say all stuff posted to flickr for TDC. But that is optional, baby. and maybe 2 tags is a lot to ask.
If you do tweet it, please send your tweets to @ds106TDC, include the assignment tag as a hash tag, e.g. "#tdc4", and alink to your contribution. This is totally optional!
Be creative in your interpretation of the assignment; there are no rules, no grades on your work. I spent some time last year doing the opposite of the assignment
Get over the obligation to do this daily. Do it as much as possible, but dump the guilt. If you miss one, do the next one. Stop acting guilty.
The site is now being used by the external participants in ds106- keep 'em coming! When the classes start in mid January, we will likely weight the first weeks with photo assignments, as thats where students are focused, but look for others to be thrown in the mix.
We are looking for ideas! The suggestion box for assignments is wide open
This is really going to add an exciting level of participation this time around, so strap on your seat belts, The Daily Creative is locked and loaded. Thanks again Tim for bringing the A-Game to the new site.

cc licensed ( BY ) flickr photo shared by cogdogblog