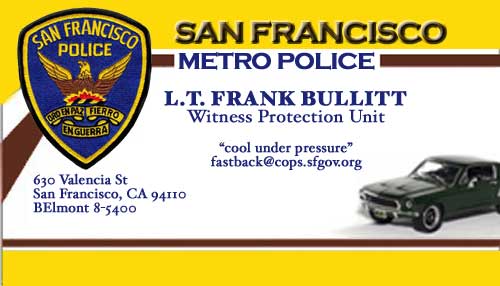 Last year in ds106 I built a few of my assignments out of the movie Dirty Harry — and having seen this movie just last night, I am just shifting to another classic San Francisco cop, Bullitt.
I did this for the Bad Guy Business Cards design assignment — and completely missing that it said "bad" guy, cause Bulitt is anything but bad. Oh well, there needs to be a good guys card in the mix:
Apparently, street gangs in Chicago, like the Hell's Devils, used to have calling cards (see the gallery: http://bit.ly/pyuOEl). This makes me think that poor marketing gives evil-doers a bad image. Help some of them out by creating business cards for them. But not the Joker – that's too obvious.
He is the ultimate of no nonsense cool. He sees the in effectiveness and the preening of the superiors, but doe snot sneer as much as Harry Callahan. Bullitt is his own dude, with his own rules. And he uses his own bad ass car, the 1968 Ford Mustang Fastback.
I was not sure where to start so I began with a base car from PoliceBusiness Cards (actually it said Houston). I found a copy of the San Francisco Badge in Google, and use its colors to change up the theme of the card. I played with fonts to get match using Copperplate Gothic, not exact, but close enough. I added the car image, moving it slightly off screen to make it seem like it was entering the card.
Since he was so effective at it (and not really Bullitt's fault, the whole deal of the witness he was assigned was rigged), I assigned him to the Witness Protection unit.
The address is actually from the SF Police site for the Mission District, I decide to use the old style phone exchange of a Name in front to indicate the first two numbers of a rotary Phone (the 55 real number did not work, that as "KK" so I made up "Belmont" as a holder).
Of course Bullitt did not have email (heck the cops in the movie did not even have a radio, they had to keep asking to use phones)
I'm going to use this dude again in another assignment.
http://www.youtube.com/watch?v=FPd8Qco2iMI