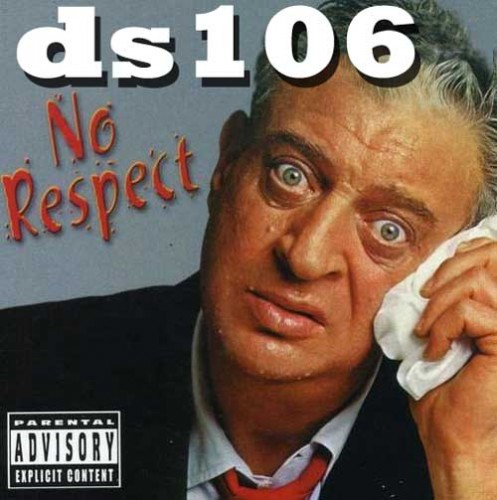 When I was a kid I got no respect. When my parents got divorced there was a custody fight over me… and no one showed up.
MOOCs are on fire. They are a tool for democratizing education. They are crumbling the Higher Education Monopoly.
And you know what hear? Stanford. Udacity. MIT.
Massive.
Numbers.
And as someone biased in the middle of something that is distinctly different, ds106, which does get mention, I keep feeling it does not get any respect.
With my dog I don't get no respect. He keeps barking at the front door. He don't want to go out. He wants me to leave.
Stephen Downes and George Siemens, to their credit, to give nods to ds106, but it feels (totally being subjective here), like it is not taken serious.
It's that fun thing.
Just crazy people chanting "4 Life"
In his recent talk, Stephen Downes said:
I criticized DS106 recently – that's Jim Groom's course – and I actually criticized Alan Levine because he was going on, "DS106 forever!" and creating chants and posters, and the whole idea of these projects in that course was that people would begin to identify with DS106. And it became like a political cult. And I know they're just playing at this, and I understand that, and I know it's just in good fun, but when the structure of the course comes to be about this central concept or content, then the actual intent of the MOOC to distribute and democratize learning has been subverted. So, this is a serious criticism to me.
I'm sorry Stephen if I beat you over the head with a stick. It was intentional 😉 I was aiming it all your way.
I should add that this poorly planned post is crafted partly in jest to elbow Stephen in the ribs- he has mentioned ds106 more seriously in his Social Media: An Interview and George Siemens regular includes ds106 in his framing of MOOCs.
This is in no way the central concept or content of the course- and the assignment that generated this– was created by a student.
No one ever mentions one of the most powerful parts of ds106 this year- the assignment bank. These are the things we ask students to do in the different kinds of media areas, Design, Visual, Audio, Video- but the things people do are built by people in the course.
Is there any MOOC out there where the participants co-create the course?
I'm waiting for an answer.
But frankly it is short sighted to see the "106" branding (sigh) as central to the course. I am teaching a class of 23 students who are pretty much focussed on what they are creating, and if you look through their work (sidebar at http://106tricks.net/) I dare you to find anything significant that is cult like or branding.
We as teachers of ds106, me, Jim Groom, Michael Branson-Smith, Scott Lockman, know what our students are doing, we read literally hundreds of blog posts and tweets.
But what it feels like is that ds106 is seen as … a joke.
I've already written this before, but no one besides Jim Groom takes notice SCALES ARE FOR LIZARDS; DS106 IS FRACTAL, MUTATING.
Stanford A1, all of the MOOCS the Canadian Crew has done, are structured as becoming massive by aiming to give the same course experience to the masses- one to many. Stephen and George will argue to their network model, which I do not content, but their structure is "Here is our schedule, all participants are going to do the same thing at the same time".
That is scaling of one to many. The same experience/content for everyone
ds106 does it different- our students here at mary Washington have a different experience than the online open participants, but more so, we have now 4 or 5 classes going on elsewhere that are tapping into ds106 for different courses. That si to say, the students in Scott Lockman's class in Tokyo and Michael Branson Smith's CUNY classes are not doing ds106 as we are. They are creating the overlaps that work for them.
Rather than a model of star shaped topology; ds106 is a network of networks.
You know what it reminds me of?
The structure of the internet.
But you know, people say lots of nice things about ds106, but it does not seem to be taken as seriously as those other MOOCy things.
There is more going on than Udacity, Khan Academy or Stanford AI pulease. For example, look at the scale of these open courses from the UK:
http://phonar.covmedia.co.uk/
http://www.picbod.covmedia.co.uk/
http://www.creativeactivism.net
Frankly, I do not care if people do not take ds106 seriously- having been part of it from the outside last year, and the inside this year, I know how serious it is. And frankly, if we keep getting no respect, we will go on because we believe in what we are doing. It matters.
I tell you, with my doctor, I don't get no respect. I told him, "I've swallowed a bottle of sleeping pills." He told me to have a few drinks and get some rest.
Send the respect to Aretha, I'd rather have the fun. Big things are happening for ds106. I've got a long range plan to use the structure for a completely new course. But stay tuned Friday for something even more crazy. That's all I am authorized to say.