cc licensed ( BY ) flickr photo shared by DonkeyHotey
Today marks the 89th day of the ds106 Daily Create site. The TDC has been a typical ds106 roll as we go grand experiment, but it has more than rolled, it has rocked too.
Below is a little bit of what has happened between tdc1 and tsc89- plus a plea for you to help us by adding new daily create challenges.
This impetus was spawned a bit by the demise of the dailyshoot photography site which issued a regular challenge to do in photography.
I fully buy into the idea that small acts of regular creativity is not only good practice, but good for the soul. I have no proof, just my own case study.
For the start of classes in January, we hoped to create our own version, and to be more than photography, but video, audio too. Tim Owens did a masterful wordpress wizardry to put it together without ant custom programming (read his summary). The original DailyShoot worked by harvesting photo data (from numerous photosharing services) tweeted out with a specific daily tag- to make ours work, we had to pick one photo service (flickr), one for video (YouTube), and one for audio (Soundcloud) based on what they offered to aggregate content by tag.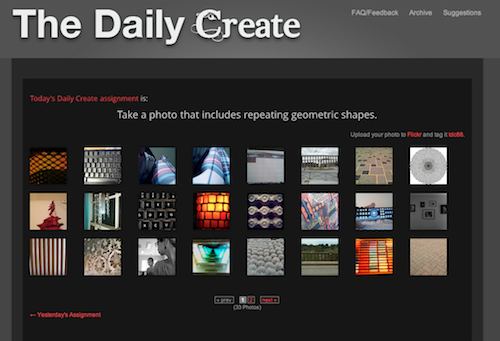 There is something mesmerizing on seeing the graphic overview of the photo and video works.
I was hoping to pull together some stats on activity, and spent a late hour bouncing around the wordpress database with some custom queries before the anvil dropped on my head- the data is all external to the blog, so I need to code something up to get daily tag counts from the various APIs. I think its doable, and can be added as custom fields to the posts.
Aside.
We had a great wave of activity once we got rolling, some days getting well over 100 submissions. For the ds106 sections that Jim and I teach, we made it a requirement to have students to 3 per week, and ramped that up to one a day when we started our Visual assignments section.
The activity is waning, and I got a sense from some of the student work, that is was becoming more of a chore as we set it up as a requirement, so have relaxed it as a firm commitment. What I am enjoying is that I am seeing my students continue at it, one after class mentioning how much she enjoyed it and planned to continue doing the Daily Create after the class had ended. Another student decided just to make up her own photo challenges. Yet another took a simple daily create for a reversal video and evolved it into a much longer video story– just because he got driven by the idea. This is the personal challenge making I really dig.
It does seem that total activity has leveled off… people are still doing it, and I can only speculate. There is no desire to have this get MASSIVE, but am just curious to find out if we are saturating.
Heck, on my own, I have slacked off a bit doing this regularly.
What I would like your help on is creating new assignments – we have a good supply, but more is always better. People like Zac Dowell, Dr Garcia, and many of our students have been all star idea machines. Plus, we are going to need at least another 270 to be able to put on our calendar offered on the Kickstarter project
WE WANT YOU! to send your ideas now to the Suggestion Box. And of course, to make more daily creates.
Today's challenge is relevant too, a way of saying thanks to Soundcloud. We went with them because of the widget that it creates as a player in our site, but to get the widget, we have to create a new group in Soundcloud. A limit of the basic accounts is that you can only create one group, and as an end around, we were asking people to make groups for us, or offering some bogus accounts if only to make a group.
When we contacted them about this issue and what we were using their site for, Ben from Soundcloud kindly added the capability for us to create multiple groups.
So today's Daily Create is to give SoundCloud some audio thanks:
Show your appreciation for @SoundCLoud- record your thanks over a drum beat

Soundcloud has recently given us permission to create all the TDC groups we need, so let's thank them with music! Record yours over a repeating drum track, such as the ones from Phat Drum Loops.
Whatchya waiting for? Make some sounds!