If you are looking for a post about MOOCs or techie stuff, come back another day. Today was… well I don't have to say much beyond
Motherless children have a hard time
When the mother is gone
Motherless children have a hard time
When the mother is gone

Motherless children have a hard time
There's all that weeping and all that crying
Motherless children have a hard time
When the mother is gone
My Mom passed away in late August of last year, in the middle of my road trip odyssey, transforming it from a plan to visit her in November to having to see her lowered into the ground in September and then cleaning out her house. Today was Matzevah, being the date my sisters and I had picked to unveil the tombstone marker for her, adjacent to the ones for my Dad and my brother at the old Baltimore Hebrew Cemetery in Baltimore.

There were butterflies in the air, and of course, left there on her gravestone as the symbol of something she has so personally enamored with, and shared so sweetly.
Yes, I have appreciated the amazing support I got through this process from friends all over the internet. But the accepting of this still eludes me; rationally I have accepted it, but down there in the deep bowels of my innards, it just baffles me, because everything was indicating she would be around for longer than she was.
It is comforting knowing she did not suffer, but I cannot but help feel cheated of missing those last bits of her; that morning I called her to say I was thinking of her on the 10th anniversary of my Dad's passing, we spoke, laughed as usual but for 3 minutes. 3 minutes. I am thankful and remorseful for all 3.
My sister Judy pulled together two lovely poems that she read today ones that both saddens and helps the heart at the same time (I hope to add them here when she sends them to me), but one is about how to remember those who passed- and it is about not focusing on the loss, but by carrying on the spirit and sharing it with those around you. They way Mom did- and it was not really until we heard the stories of the people she touched in her community in Fort Myers– that I realized how much I underestimated what a selfless influence she had on so many people.
And it hits home, after all of this, how little of the grieving I've been able to get close to inside. And it makes sense with a more recurring feeling of being adrift in life right now, despite being surrounded by people who genuinely care, I cannot say I am always giving back even a fraction of what Mom did.
So I am looking inside, to find the ways to learn her lessons, and act more on them. "Butterflies are the symbolic representation of the eternity of life."
I have audio, I have pictures, and I have stories.
While we gathered at my sister's house, we asked my niece to get a photo of my sisters and I, and I was moved tonight to make an animated GIF out of a photo of 2012 and the old kids pose from (??) 1968? It strikes me that we are now older than our parents were at the time of this photo, something that seems implausible as a child.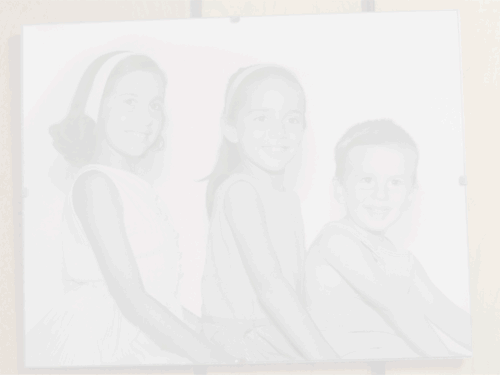 An infinite repeated loop works for me. Judy, Harriet and I always laugh about the lecture Mom would say to us, "When I am going you kids better be there for each other" as if that really was anything but a certainty. Yes, we are all motherless children, but we don't have to have a bad time now that mother is gone.
I await this step from mourning my Mom's loss to celebrating her life. The former does not go away, but the latter? Well, I still have lots to learn, Mom. I love you forever.