Things are shaping up nicely for the summer course of ds106 I am co-teaching with Martha Burtis, we have been super busy supervising and doing a lot of the work at Camp Magic Mcguffin. If you have every mused about trying to take ds106 as an open participant, this is perhaps the best time, during the summer, to come to camp, and let your creativity go wild. Go check out our welcome video and see the special info we provide for online open participants (yes Lisa Lane, we have a tag for you;-).
We were excited to hear that canmpers are already getting into the spirit, Lee has already done and created a first camper submitted assignment.
So I wandered down to the shored of Lake Macguffin to see how the cleanup was going.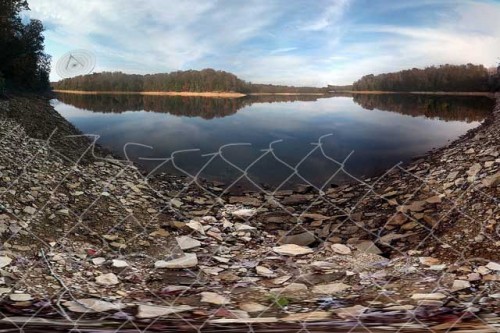 It is still off limits while the crews finish the work, after emptying the lake, and removing all fo the debris with backhoes. Yes, there is a bit of reality distortion that happens in some spots, as you can see, but the water looks great, eh? Martha has been busy working on the new docks (she is handy with those power tools), and today, I took one of the new kayaks out for a spin:
As you can see, there are a lot of interesting nooks and crannies to explore, and the Fish and Wildlife Service has confirmed we are adjacent to the location of some nesting bald eagles. We hope we get a chance to spot some of them soon. Just make sure you stay clear of that fenced off cove at the south end of the lake.
Well, that's about all the news fro Camp, remember we start on May 21, but if you are an open online participant, heck, just drop in when you can, Just catch the creative fever.
Can't wait to see you in camp- I'm working on setting up a side blog to post some video updates.