I'm really worried about our brother Scottlo. It seems he has drunk some weird potion and is mesmerized by some beach front pixel property in Second Life, some place called Conoway Cay or something like that. Over here in Camp Magic Macguffin, we are hacking out a whole new world inside Minecraft, and poor Scottlo is in some sort of trance of the SL Sirens.
Therefore, we are planning a Minecraft Scottlo Extradiction Strikeforce (MSES), and I made a few epxloratoary forays into that oversexed virtual world to check things out: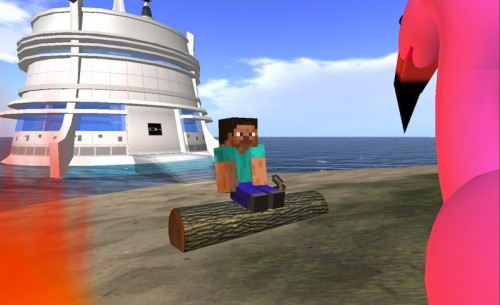 I even kindly left him a few toys to play with, because in his broadcasts he seems to lonely.
But can you believe it? Scottlo just tossed them in the trash. What happened to my friend of old? Cannot you see how all those SL furries and crazy sales people high on Linden dollars have corrupted him?
Since Scottlo has been eager to set up his ability to broadcast live to a Google hangout from Conoway Cay, as part of the MSES plan, I am seeing if we can do the same from Minecraft (or "Minesweeper" as Scottlo calls us). I am understanding the audio set up thanks to the tutorial; I gave it a try tonight but had trouble getting Google Hangout to let me switch the audio input source (it needs to be Sounflower 2CH from Ladiocast).. but I think it was because I need to set that before boosting up Ladiocast.
Anyhow, I wanted to do at least a basic broadcast from Camp Magic Macguffin in Minecraft, from my new doghouse there:
WE ARE COMING TO YOU SCOTTLO! Rescue operation is in ready state, and we hope to parachute in very soon.