cc licensed ( BY ) flickr photo shared by photosteve101
Dear Dominoe,
I thought I would write since it has been like forever since I last communicated (literally), but who would understand me better than the dog pal who followed me across the country and then some. You might noy be aware, but I have been away for three works helping run a summer camp called Camp Magic Macguffin – the magic meaning that nothing bad happens here and the people who come just want to create, create, create art and funny animations all day long.
In a way I wish I was a camper, because then you get to play. But I also have to work .My colleague Martha and I have much to do with orienting our UMW students to things like WordPress, creating course materials and videos, running live camp fire sessions, clearing timber, planning activities, etc. And we have to make sure we review and give feedback all the time.
It's a good thing we have the grooviest bunch of counselors to help us out, especially people like Ol Hatchet Jack, who sounds threatening, but has been super helpful, Cheryl Colan that fun do Wop Girl, Giulia Forsythe, our drawer and mentor extraordinaire, Sergeant Pepperstorm who has been building like crazy in Minecraft (along with Ben Rimes). Tripper Harrison has been running live music over the PA system, and Zazzy, who seems to be questioning me all the time, has been a champ at commenting and doing innovated creative work herself.
And then the open online aprticipants! Woah, I would break my hand trying to cite them all, but we have about 50 whoa re active- you can see all the camper blogs here http://magicmacguffin.info/subscribed/

But yeah, last week, besides running all the camp, I managed to get some work done.
We saw a string of folks give the Album Cover assignment; mine was the first disc from Sid Hammerback's "Let the Rest Go By" do you remember all of those Orhestral Funk raves we went to? Man those guys were up and down the chromatic scales.
I spent a lot of time taking the play list story assignment I did last year and adding images to make it a slideshow, but the outcome was really worth it, check out What The Tax Man Doth Do, taking the original Taxman playlist, tossing in creative commons images, and publishing via PhotoPeach:
Then there was a raft of animated GIFs, a few from my Storybox content, but the one I am most proud of is the one from Pulp Fiction, bad ass Jules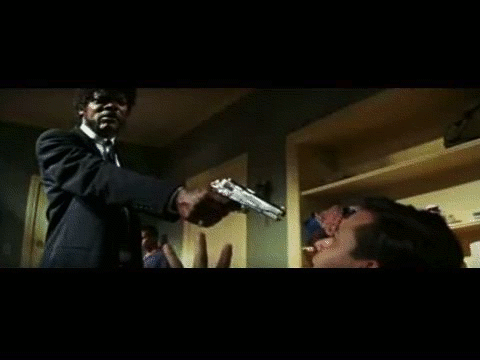 Also this week, since we gave the UMW students a mandate to do 5 daily creates, I aimed to make that my minimum:
plus an audio!
I really need to carve out some more time to explore in Minecraft- there is a ton of stuff happening, and it looks like this week we will have our weekly campfire there. I have more updates on the side of my job as co-director at my Magic Macguffin blog, mostly the videos I am posting when I get a chance
THERE IS SO MUCH GOING ON HERE!
But it is fun.
I miss you, dommy, you would have fun at camp,
love
Alan