Despite years of reporting this to DoNotCall, requesting help from my Congressional Representative, reading stories that these robo call spammers were stopped, it continues- why can't the NAS and FBI spend some of their effort pursuing these law breakers instead of spying on citizens? Notes continue to be added at the end of this post.
The Consumer Union is running a petition to toss at Telephone Company CEOs (I have little faith in petitions, but…). Also check out the efforts and a mobile app by Numbercop.

---
I am hoping the FCC can spray this one down. I am not hopeful. Every three weeks or so, Rachel, a recording, calls from random numbers around the US. She must get around. She keeps telling me this is the last time to get this offer from Card Member Services to lower the rate on my credit card.
She pretty much has take over for Cathy, who has been at this since 2008
When I wait to speak to a representative, as just happened an hour ago, I request to be taken off their calling list, Then they hang up on me. I've had about 20 of these this year, and each time I dutifully file a complaint at http://donotcall.gov. I have never done business with this company, and from what I understand, the government should be able to hit them up for a nice fine.

cc licensed ( BY NC SD ) flickr photo shared by cobalt123
I did some googling and found this web site which seems to be associated with First USA Bank which is kind of dodgy since they do not seem to be even a bank according to Google. I went to their Contact Us page (more sketchy as their address is a PO box in delaware), and found a toll free number to call (1-877-999-3872 also reports as suspicious).
I called them (recording below) and got a phone menu with not many options to get to a human. I finally get generally enquiries and here's where it gets funky – I found out I was speaking to someone at Chase Bank who had no clue why their number was connected to Card Member Services.
CogDog Sniffing Out Card Member Services
So its another dead end.
Where is our government agents on this? These folks are obviously scamming people to sign up for credit cards or at least reveal card debt information. They are clearly in violation of the FCC rules on unsolicited phone calling. They are clearly violating the Do Not Call guidelines.
Can it really be that hard to track down these roaches? I'd sure like to give them a kick with the steel toed boots.
FWIW, I am starting my own public log of these calls:
I am doubtful anything will happen, but from now on I am going to do what I can to phoen freak 'em back because they are messing with the wrong dog.

cc licensed ( BY NC ) flickr photo shared by TomConger
UPDATE: August 30, 2012 Just got a robo spam call from Rachel, 10 days since the previous one. Since my congressman is always writing about what he is doing, I thought I'd ask for help:
UPDATE Nov 15, 2012: I guess Rachel was fired, she was replaced by Anne, who called several times, from Wahpeton North Dakota and Kent Washington. When I called back te last number I was SPAMMED from (253)-236-2156 a computer generated voice claimed that to comply with FCC regulations, I could enter my phone number to be removed form their call list. This should mean if Anne or Rachel or Any Other MF-er from this company calls me again, they are in clear violation of FCC rules (which they have been for years). Here is proof of my compliance:
Anne Please Stop Calling Me! You Promise?
UPDATE Dec 18, 2012: Anne is gone, now the name is Tiffany (who sounds just like Anne and Rachel). She said I could press 3 to be taken off their list, but when I did that she just hung up on me.
UPDATE Jan 4, 2012: Tiffany called again, she called twice since the first of the year, but I missed her calls. This one I recorded. It's kind of funny how this "limited time offer" has been going on for years. I did press "1" to try and speak to a human being and ask again to be take off their list. Nothing happened. I filed yet another complaint with http://donotcall.gov but I have zero faith that anything comes from that.
UPDATE Jan 9, 2012 According to a November 2012 Story in the Christian Science Monitor, 5 of the companies behind Rachel were taken down (that makes sense why the bitch returned as "Anne" and now "Tiffany"
According to the FTC press release:
"At the FTC, Rachel from Cardholder Services is public enemy number one," said FTC Chairman Jon Leibowitz. "We're cracking down on illegal robocalls by bringing law enforcement actions and pursuing technical solutions to the problem."
Rachel is gone, now aim those FTC sites in Anne and Tiffany, ok?
UPDATE Dec 5, 2012: Received a few letters and calls in response from my US Congressional Representative, Paul Gosar, to whom I wrote a letter of complaint some months ago. They suggested reporting to DoNotCall (not useful) but did send some info pointing to efforts the FCC was doing with robospammers. Bottom line- no one can do much to stop them.
UPDATE Jan 18, 2013: Rachel is back from the dead. She moved to Alberta or British Columbia, I get calls from both. Will the FTC call some Mounties to ride their mooses out there and bring her in? Oh she is a slippery b****.
UPDATE Jan 29, 2013: A commenter shared a little tidbit when he tried to goad the person on the other end. Dana gets rather loud and says bad words at the end.
UPDATE June 8, 2013 And they are back! Two calls in a month. Now her name is Kelly, and her new company name is the cleverly slippery name "Consumer Law"- same ole robo calls from numbers that cannot be redialed. Hey, NSA, use some PRISM to find these bastards!
UPDATE Nov 18, 2013 It's been a quiet few months, only a handful of robo spam calls, but guess who is back doing the robo spam calls? Yep, the original, the only and only Rachel. Now she is in Tennessee. The FCC is totally useless.
UPDATE Dec 27, 2013 Now Anne is back on the calls. She has called three times in a week. On one occasion I waited for the operator, and used a slow fake voice at every question to say, "WHAAAAAAAT?" After 3 questions, the operator cussed me out in Spanish and hung up.
UPDATE Jan 6, 2014 They finally got a guy recording the calls; his name is Scott. Same sales pitch, except a new twist of lying- he states that Credit Card Services is a non-profit company. It's time to keep a recorder nearby handy so I can record these intrusions of my privacy.
UPDATE Jan 10, 2014 A call came in bearing the same number and location (McPherson, Kansas) as one in December, so I did not answer. I do not know anyone in McPherson, or actually all of Kansas, who would call me. Its interesting they are repeating use of numbers. You can test these, by calling back, and you will get an error message about the number not being allocated:
Now here is something the deadbeats in DC ought to be having the FTC cracking down on the phone companies- no one should be able to transmit phone calls from an un-allocated number. Well, that's what I think.
UPDATE Jan 28, 2014 There have been at least 4 more calls since last report from unidentified numbers, from cities I do not know people. Today I managed to turn on my audio recorder. When the operator answered, I was asked how much credit I need help with. To engage the call, I said "So much I do not even know." There was a 3 second pause, and then he hung up on me. My hunch is that they have records on my phone number and how I am probably combative. This means they have records of numbers called. This means they are breaking the law. Reported again to DoNotCall, for what little that ever does.
UPDATE Feb 4, 2014 Someone new on the recording, "Heather" from "Account Services", same offer. There was an option to press 2 to stop receiving notices. Yeah, like that does anything. I pressed that many times over the last few years. Reported yet once again to donotcall.gov Also, about a week ago I got a call back from the office of my congressional representative, Paul Gosar I contacted him a second time reporting this as a nuisance and a violation of FCC rules. I was told there is really nothing they can do. Sigh.
UPDATE Feb 12, 2014 Holy cow, "Barbara" from Credit Card Services sounds like a MAN! But she's got the same recorded message going that I have hear maybe 100 times. Reported to DonotCall.gov which frankly is a waste of time and I am done doing that.
UPDATE Feb 4, 2015 I get almost daily robo spam calls; I ignore them all (since I spending 4 months in Canada, ***** if I will pay to hang up. They are pretty easy to identify, just google the numbers and they all show up on reporting sites:
It looks like the FTC is doing something with their $50,000 challenge, in fact, it is now a program called "ZAP RACHEL" even with t-shirts. Hurry up and zap that bitch!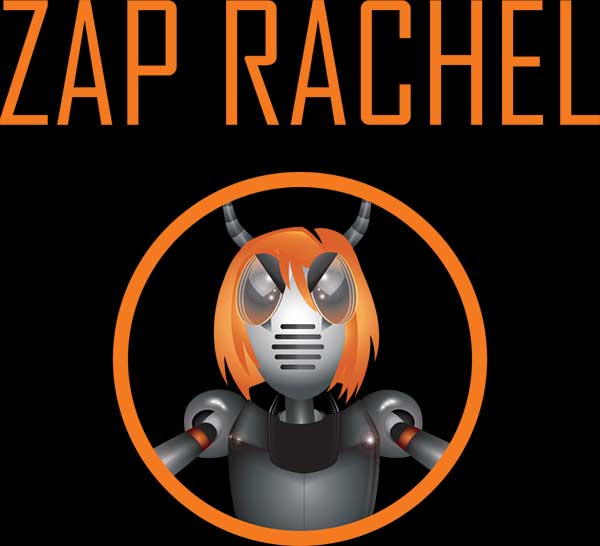 UPDATE Feb 10, 2015
Just another day. Four unanswered calls from numbers, that when googled, all end up showing as being on web sites that report robo spam calls. After tweeting out the screen shot of the offending numbers, we enter the regular cycle of canned responses from Verizon support
https://twitter.com/VZWSupport/status/564989589853454336
And after letting them know how useless reporting to DonNotCall is (I've reported easily 100 numbers), we get the next level of predictable, unreasonable Verizon support responses
https://twitter.com/VZWSupport/status/564994123774443523
After replying how unacceptable this is, I no longer hear back from Verizon support. That too is predictable. But then, out of the blue comes this
@cogdog @csgamble @VZWSupport We participated and won the prize. DM us to discuss what Verizon does, can and can't do to solve this problem.

— NUMBERCOP (@NUMBERCOP) February 10, 2015
Now time to check out http://numbercop.com. The reviews on app store are mostly positive, a few detractors.