Time will tell (very soon) whether my string of Signing Up for Open Courses and Bailing Early (ahem PLENK10, Coursera, Code Academy, MOOCMOOC) continues. I'm hoping to change that with Pedagogy First! Program for Online Teaching's 2012-2013 Certificate Program: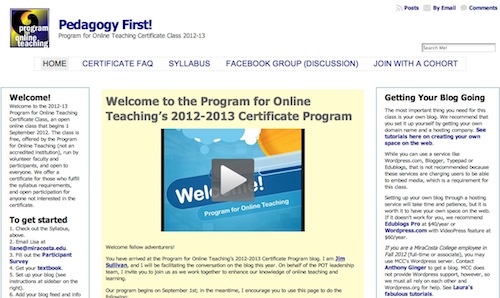 This online open class from Miracosta College is led by people I totally adore and respect, Lisa Lane and Todd Conaway, both who have chipped in a lot of effort to our open ds106 classes.
But that is not why I should give this a good effort.
it's because I have taught (and am teaching) online and while I think I know what I am doing, I bet I don't. So I am keen for the things I can learn and experience in this class.
I'll be using my regular barking grounds here at CogDogBlog but tagging posts for this class as potcert (this post is my first one to see how their aggregation system works).
It's off to a start with a welcome from Jim Sullivan ("on behalf of the entire Pot leadership team") and there is a The POT Network (do you think this is from California or what?).
IO gotta like a welcome that features the music of the Eagles, doing Take it Easy, which naturally leads me to my most recent trip to Winslow Arizona, where I stood on the corner and took it easy

cc licensed ( BY ) flickr photo shared by cogdogblog
I am not in it for the certificate, but in it for as much as I can shore up my online teaching chops. As much as I enjoy being online, my first round of teaching ds106 this summer was challenging in several ways, mainly in the ability to read students and provide them a base level of tihngs that were more easily demonstrated than linked to.
The blogging part is easy, so if anyone in the class needs a hand there, I'm yer dog.
Bring on the POT!

cc licensed ( BY NC SD ) flickr photo shared by Vaughan