cc licensed ( BY NC ND ) flickr photo shared by recompose
Woah. (tap tap tap) [clears throat]
Is this thing on? Yes, the red light is on.
Welcome back. We took a nap here at cogdogblog for a few hours last night but still had stuff to write about. And we usually tell our students in ds106 that the server being down is not something that should keep them from creating, that there are end arounds, that we need to know how to fish for cache.
So I blogged over at my quiet little WordPress.com Laboratory (after tossing on a more modern theme) an example for one of the newest assignments in our two week unit on Remix/Mashups.
In some earlier conversations with Jonathan Worth at phonar, we brainstormed the idea of on online media "recycle bin" – a place where students would upload media that was collected/created but not ended up being used for their earlier assignment work, the digital rubbish that falls to the kitchen floor and hides under the counters.
I had looked about for a web site that would allow anonymous uploading and downloading of media (drop.io used to do this so well), and minus.com seemed really close, but the invite to upload never seemed to point people right to our bin. So I set up a more rube goldberg 2 part method- a dropitto.me site for uploading media (password is "photos4life" you can still put stuff there, no guarantee how long it wil take me to process). These go to a dropbox account I set up (a new one not connected to my regular account, set up under a guest account on my MacBookPro). Every 2 weeks I copied media out of there and uploaded to minus.
Currently we have over 150 images, audio and a few videos at http://minus.com/mvKXzhhcO it is easy to download from there and you get a decent preview: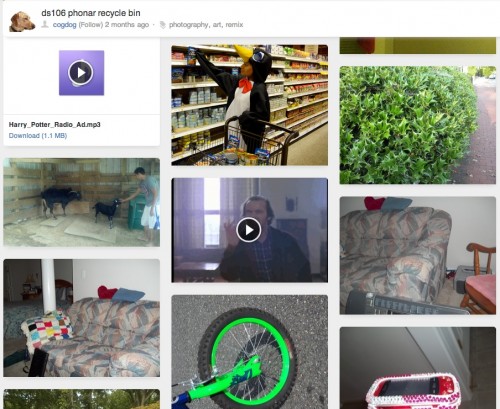 The remix/mashup assignment, Recycle The Media is :
Your task for this assignment is to mashup at least 7 different pieces of this media to make a new story, and use at least 2 different types (e.g. audio and image, image and video). The story most likely would be done as a video, but see if you can make these different kinds of media make sense as the content. What kind of recycled story can you make out of this cast off media?
Martha and I gave our students the option to do this one as part of their 7 stars requirement of mashup assignments or to incorporate at least 5 of these media in their other mashup work.
That is the long preamble to my post over at my sidecar blog on Cat? A Recycled ds106 Media Assignment, my own attempt at a story made of only bits of this recycled media:
assembled in iMovie.
I am curious to see how the students approach this, the hard part (which I did not exactly take on) is avoid doing a literal interpretation of the media. It takes some time to scroll up and down the media bin to find things that are either related or might be sequenced. Going against the grain, playing against expectations, is where the real gravy is in this creative meal.