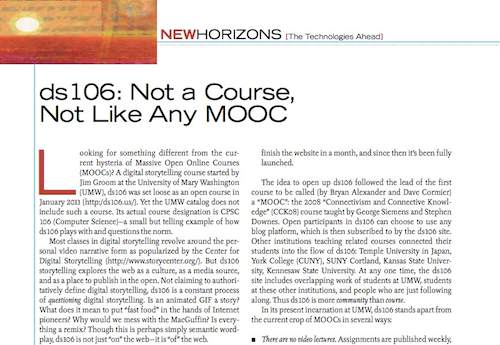 Fresh off the electronic press, dripping with electronic ink and smelling faintly of dittos, my words are in the Jauanry/february 2013 issue of Educause Review in the New Horizons department (yawn, horizons) (oops). Look ma, a citation! ds106: Not a Course, Not Like Any MOOC:
Looking for something different from the current hysteria of Massive Open Online Courses (MOOCs)? A digital storytelling course started by Jim Groom at the University of Mary Washington (UMW), ds106 was set loose as an open course in January 2011. Yet the UMW catalog does not include such a course. Its actual course designation is CPSC 106 (Computer Science)""a small but telling example of how ds106 plays with and questions the norm.

Most classes in digital storytelling revolve around the personal video narrative form as popularized by the Center for Digital Storytelling. But ds106 storytelling explores the web as a culture, as a media source, and as a place to publish in the open. Not claiming to authoritatively define digital storytelling, ds106 is a constant process of questioning digital storytelling. Is an animated GIF a story? What does it mean to put "fast food" in the hands of Internet pioneers? Why would we mess with the MacGuffin? Is everything a remix? Though this is perhaps simply semantic wordplay, ds106 is not just "on" the web""it is "of" the web.
A few weeks (months?) back, I got an email from former Maricopa collegue Vernon Smith who is the new editor for the column, who asked me to write something for them on ds106. His eye had caught the "It ain't no silly MOOC" tag I had on the site for a while last semester, when it seemed fun to bait MOOCs. Now? Meh. Yawn.
But I did want to write about the things in ds106 that make it special, unique, in my mind. I was happy to fit in some quotes from former students and open participants. It's a real skim by, but what can you really do in 1500 words?
Thanks to Teddy Diggs for thorough editing. Now when is someone going to convince her to get in her car and drive north two hours to visit me? I've been offering to buy beer…

My current students are doing a good job of expressing what its like to be in ds106:

GIF by Brittany

GIF By Brooke

GIF by Nancy

GIF by Jennifer

GIF By Sarah

GIF By Fairuz

GIF By Tim ("The Enhanter")

GIF by Casey

GIF by Karissa
You can look at these, and some of you may eye roll, and click away dismissively. But to judge what is happening in thr scond week of this online class, but focusing on the product, the animated GIF, is missing what ds106 is about. My students did these after creating a domain, installing and customizing two wordpress blogs, creating 4 social media accounts, posting videos and images.
But you see, the thing abiout these animated GIFs is that they were a challenge — I did not provide them instructions on how to do this; that was the task, not just to make the media, but to teach themselves how to do it. To be resourceful.
By far the most difficult thing about this week was creating a GIF. When I first researched everything I came across a bunch of create-your-own-gif websites like GIFsoup and imgflip but then I realized that things had to be a bit more complicated than that"¦and boy were they! I used the ds106 handbook and learned how to make a GIF from scratch. Looking back on it, it wasn't actually that complicated it just took a lot of steps…. I was really proud of myself when I was finished because I created a gif using open source software from scratch!
For example, GIFS. Can everyone please take a moment of silence for all those brave people that post wonderful gifs on tumblr, reddit, etc.? Honestly. Until this week, I had no idea the process someone had to go through to post that 2-second clip on your dashboard and for you to just blast through pages without appreciating it… I had a couple hiccups along the way (too many frames) but alas! I got my clip so I am loud and proud about it. :)
Okay, so this one was a big toughie for me. I ran into so many different problems, probably because I didn't read all of the instructions! At first, I was super overwhelmed with this assignment. Therefore, I did what anyone would do: I googled it. I found a lot of helpful tutorials"¦ but it involved buying Adobe Photoshop.

Therefore, I went back to the GIF Assignment page and perused it rather than quickly glimpse at all of the details. Thank goodness I did! I ended up finding a very helpful site and found the programs I needed to complete this assignment. Lesson learned: READ EVERYTHING BEFORE STARTING AN ASSIGNMENT!
This group is already doing more reflection, process narrating, and leveraging social media than many of my former students got to by the end of the class.
Well look at me. I started writing about an article and ended up embedding a bunch of student created animated GIFs. That's what ds106 does to me.
Lastly I would to thank EDUCAUSE for th eprovisions of allowing me to publish the article under creative commons license… I won't do any writing without that.