You may not be aware of it, but your digital photos have more in them than colored pixels, modern cameras, mobile phones attach extra information that travels with the photo. This came up with discovery because a commenter on my site about returning a found camera asked about finding her own lost camera.
I came across two services that provide a search online for photos with meta data containing the serial number from your camera – many might be your own, but there is a chance that a camera their might post photos taken with "their" new camera – these sites are http://www.stolencamerafinder.com/ and http://cameratrace.com/.
Flickr stores a lot of photo meta date, just look at any images's page, select under the "Actions" menu, View EXIF info. Its a lot of meta data. I've used a process the last 3 years with Apple Aperture for managing my photos that includes the Connected Flow Flickr Export plugin- this has a nifty setting to have to write back the flickr url of an exported photo to the original image.
All this stuff in Aperture means using or creating your own Meta Data preset, it is meta data that is associated to all images you import (so you get all of the camera data, lens, aperture, shutter speed, data/time) but you can also add information to. It's been part of my process of blogging my photos at Barking Dog Studios – because I have already written titles, captions, tags in Aperture, my modified wordpress template is able to include that info automatically from the meta data that is imported when I upload an image.
The thing is, not all applications make use of all of the meta data. the information that WordPress picks up form an image is much less than flickr. One field I saw that was available in WordPress was a Copyright Notice- with some fiddling I was able to add my own creative commons meta data in Aperture.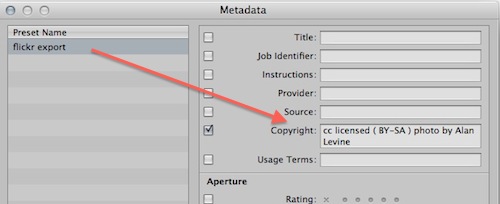 This started with combing through the IPTC meta data on my preset, and entering what i wanted to be included in the copyright field (a place I guess others put restrictions, I decided to put openings). This now gets added automatically to all photos I import (I have not found a way to apply it to the backlog).
So what happens? Well it appears in the meta data when I edit my titles and captions in Aperture:
And that meta data travels when I post it to flickr (it actually appears twice, plus flickr includes my own name in the meta data too, nice)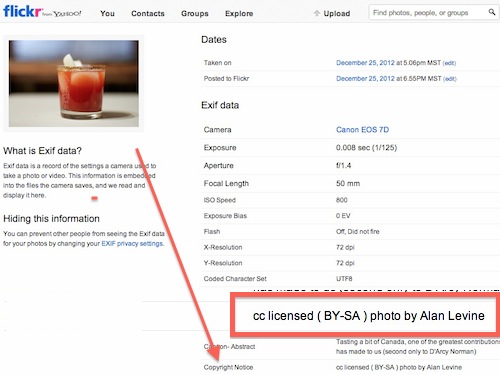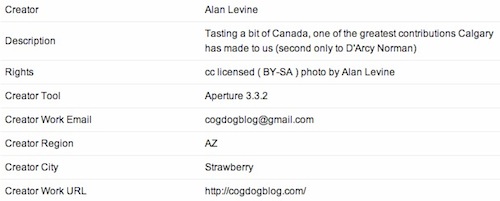 And as mentioned when I upload the image to Barking Dog Studios, the blog entry automatically adds this line:
As an aside, an EXIF viewer app on my MacBookPro does not show this extra meta data, nor does the Get Info command in OS X (you get some meta data):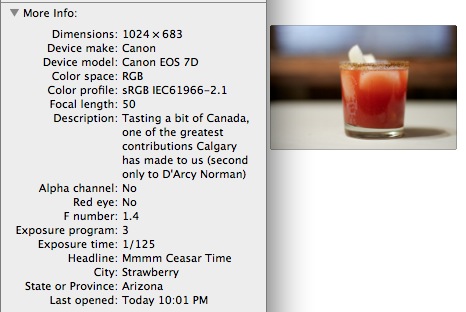 So what seems interesting is that there is a range of hw much meta data is used in different apps and web sites. If anyone knows of a better OS X tool for peeking at file meta data, one that shows everything, please let me know.
But this little exercise was useful for me in knowing I can use Aperture to infuse my Creative Commons license into the digital image itself.