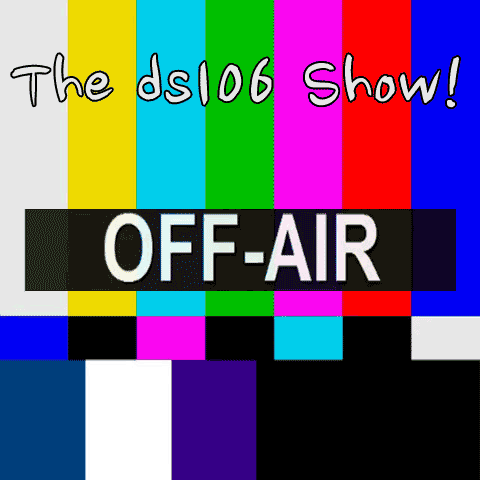 Yesterday was week 14 for ds106, the last week of classes for my UMW students, and also the last of my semi regular live Google Hangouts pitched as a weekly "show". Thanks to Brian Lamb, Todd Conaway, and stalwart student Nancy B for showing up.
The whole series is right here!
The viewership on the series is lower than the video for Aunt Bertha's Toenail Clipping tutorial, but that was not the point. What was the point? Oh yes, since ds106 really has now scheduled classes nor weekly lectures via video, I wanted something that was "live" as an least an opportunity to offer at least some together moment in the class.
Oh, I made it a participation requirement for my students to cohost / be present for at least one show a semester. This provided me a way to ask them about the class and give them a platform to complain (the never did), and have speak for the experience in their own words, interact with open participants from the larger community– but mostly so I at least could know them a bit better, and vice versa.
Unlike spending thousands of dollars to film sterile fixed lecture (cough xMOOC), this was meant to be as conversational as face to face interactions, to be human to each other. It was not scripted.
My shtick was sort of pretending it was a 1960s style talk show- no idea why, but I put a black and white effect on my laptop camera (iGlasses), often wore a tie, and played some cheesy music.

cc licensed ( BY SA ) flickr photo shared by cogdogblog
I decided each week to make a 2-3 minute intro reel, always the same orm of intro, music, and exit, but each week I would insert some new clips of old commercials, educational videos, etc. I used three segments from the 1958 Promotion Bypass, a vintage film about management issues, for the dude in the suit behind the desk. My shtick was each week, I would re-write a script I would dub over his lines. This was a matter of counting syllables and re-writing it.
I ended up getting it so I could produce a new video each week in about 2 hours. For what purpose? My own amusement. But they were fun to do
After the hangout was archived by YouTube, I simply used the youtube editor to weld together the intro to the google archive recording.
I filmed these in my spare bedroom/office, using a reflector to bounce fill the window light, an worklight for a spot (super low tech by Andy Rush measures for sure). I'd play the music from my iPad out of some portable speakers.

cc licensed ( BY SA ) flickr photo shared by cogdogblog
I also used this as a theme (and produced yet another intro all the way up to 38 views) for my keynote for the TCC World Online Conference.
So this was totally not necessary, but totally became a weekly obsession, and I got a lot out of the regular act of doing this week by week. It was worth it for me to at least have some talking time with the students. I call it flipping the video lecture– right into the trash. Online classes do not need lectures to transmit content. Or at least I think they don't.
But what do I know? Aunt Bertha is killing me in the stats.
Thanks to people like Todd Conaway, Ben Rimes, Brian Lamb, Brian Short, Zack Dowell, Mikhail Gershovich, Jonathan Worth, Andy Rush, Giulia Forsythe, Jim Groom, Norm Wright, Daniel Zimmerman, Michael Branson-Smith, Bryan Alexander, Martha Burtis, and Haley Campbell for being guests.
And all my students for putting up with the weirdness.
But don't mind me, ask Aunt Bertha.