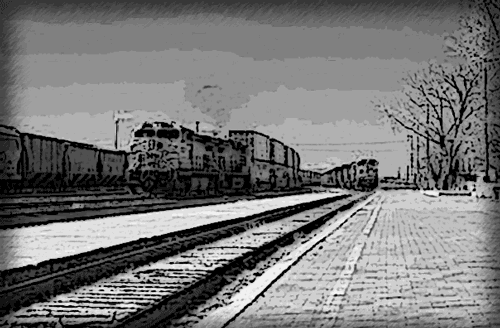 I was born in Dixie in a boomer's shack
Just a little shanty by the railroad track
Freight train was it taught me how to cry
The holler of the driver was my lullaby
I snapped a series of photos of this freight train going by out on the Santa Fe tracks behind La Posada (a true western gem and proof that there is much more in Winslow than a tacky corner). The quick series was in hope of doing an animated GIF, as I fiddled in Photoshop, I wondered about applying filter effects on each frame, maybe trying to make it flash like an old movie. Well that did not happen, but a combination of the black and white adjustments and some edge filters gave it a surreal effect.
No real message here, just making a GIF.
And in a few weeks I will be headed in this direction from a train I will catch in Flagstaff for a kong journey…