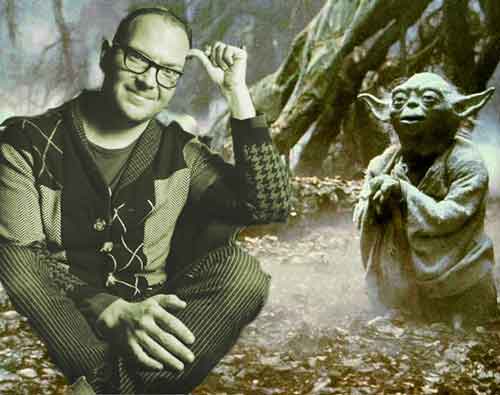 Why he read all of the ancient and modern parables of the Wise One, especially borrowing attributes of those who took on Empires, like Jedi Yallow, for later training. He than sought out The Boing Boing Being in the deep depths of Hainault Forest, spending weeks at his feet, taking notes on his iPad.
This is a quick remix example for an exciting ds106 project, where our students are among the first to get a crack at remixing the portrait photos of Cory Doctorow that Jonathan Worth is sharing with the world for open remixing. Jonathan described it for us
https://vimeo.com/64019665
and as well visited with me and my students during this week's ds106 show. To be a base for the site, and knowing the flood of action once Cory announces this on Boing Boing, I suggesting hanging the web site on wordpress.com- with the name borrowed from internet speak and one of Cory's books — For The Remix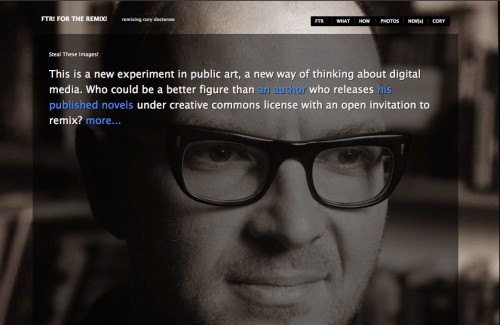 The first set of photos is available at http://fortheremix.wordpress.com/photos licensed under a Creative Commons Attribution license (please no license debates, ok?). The original high resolution images (as large as 50 Mb) are stored on Amazon's cloud.
For now, our method of collecting remixes is embarrassingly simple- we want people to write up their entries ds106 style, and add a link in the comments to our HOW page.
For my students, they have a ds106 Mashup assignment they have to do for this last segment of the course.
And that's where I want your help. We want to have a good variety of examples of remixes before we take the project to the wide open web. We are hoping people di more than simple images, like I did here, but actually think about making stuff. I'll be nagging a lot of you ds106ers to do this. You have been warned.
Okay, for my remix above, the original image or Cory sitting on his chair reminded me a bit of Yoda: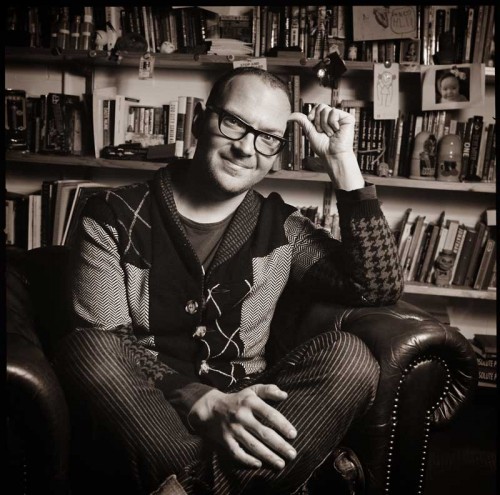 I found an image of the scene where Yoda is teaching Like in the woods in a post from Death Star PR A Chronological List of Things Yoda Tried (and Completely Failed) To Do: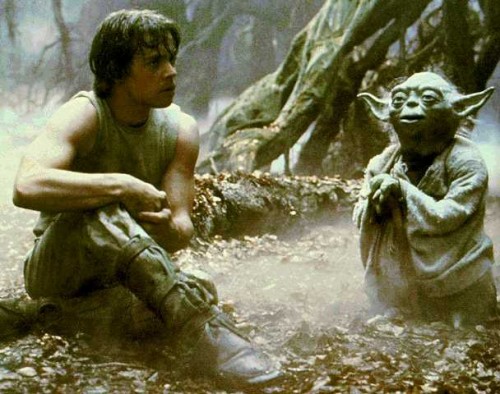 I was thinking at first that I would replace Yoda, maybe with a flip horizontal to match the angle Cory is sitting at. I took both into PhotoShop, and used the magnetic lasso to select around Cory's shape and remove the background. When I started moving and resizing over the Star Wats scene, I realized hw was a better match to replace Luke, and the concept made sense- Yoda learning from Cory Doctorow.
I had to do a bit of clone brushing on the original layer to wipe out Luke's foot, but it fit pretty good. Once I had Cory's photo in place, I used Images -> Adjustments -> Hue Saturation checking the "COlorize" box to try and match the green hue of the star wars scene. Not too bad, eh?
I left a copy of my PSD file for anyone who cares to fiddle. Since the start wars image was low quality, I did te sloppy thing and up-sampled, which I know is not good, but sue me. I made a 300dpi version PNG at 3600X2842 px (7 Mb).
I just wanted to have one quick example out the door first! My next one is going to be an animated GIF..