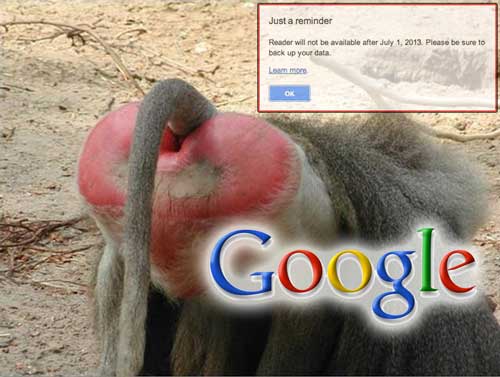 They may "Do No Evil"â"¢ but they can "Take Away Web Stuff That Works For No Credible Reason".
There is goes. Bye bye Reader. #GoogleNot4Life pic.twitter.com/2Yt4X7xuje

— Alan Levine (@cogdog) April 6, 2013
If Google cannot afford the expenditure or running a web service, how are they funding the raft of experimentation? This is but a thin veiled attempt to funnel web reading into Google Plus. That's me paranoid theory.
Anyhow, in the next two weeks I am left with finding the less than optimal platform for feed reading.
You know what I'm not up in arms about GReader? CAUSE ALMOST NO ONE BLOGS ANYMORE!

— Alan Levine (@cogdog) June 8, 2013
This of course is a valuable lesson in what is ours and what is theirs in the internet space. Just wait and see what happens to search, because Google Controls The Forces of Gravity