In reading Stephen Downe's post on RSS Changeover Day Experiences, my radar got curious from a link in the first comment for SubToMe. It's for a free code to do what browsers should do, should have done, and never really did- make it easy to subscribe to sites with RSS feeds.
As Clay Davis would growl, Sheeeeeeeeeeeeeit you are out of luck even trying to view RSS in a browser. When has an internet standard been so maligned? It feels like a conspiracy. Sigh.
Anyhow, if a site is equipped with the subscribe button code (like ahem, this here blog, see the right sidebar?) OR if you equip yourself with the SubToMe bookmarklet, you can choose which of the expanding number of readers you want to subscribe a site to.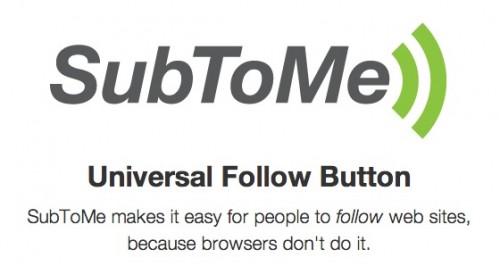 This looks like it might help with what I see happening with others and myself. In the aftermath of Google's washing their hands of Google Reader, I find myself bouncing between different readers to find what works best. I have Digg going, Feedly, and just set up The Old Reader. None really sem to have an upper hand, and the more I read what other people are choosing, there is no strong leader of the pack. I cannot really say yet if one has the upper hand for me.
What this means is a mess if you are wanting to keep a consistent set of subscriptions. That's where SubToMe might fit i nicely.
It's some web page code and some cookie storage locally that makes this work, nothing running through a third party. You choose which readers you want to have available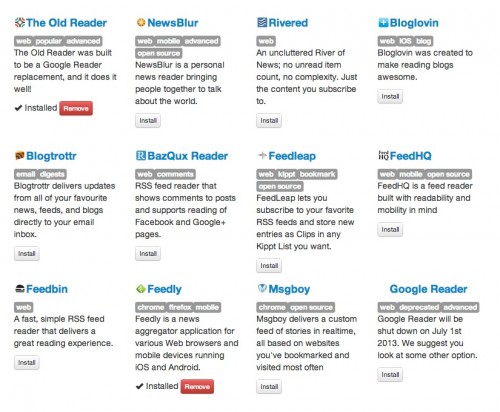 Digg is missing, as is AOL, and a raft of others– not sure what determines if it can be added to SubToMe.
But in theory, when you subscribe, you choose which one of the ones you have activated you want to add the site to (it is saving these choices via a cookie on your computer):
But beyond the number of readers available, what it ought to do, which Chrome, Firefox, Safari, Internet Explorer have failed to do for years is to build in the autodiscovery of feeds and make subscribing easy. And SubToMe has their code opensourced on github.
Sheeeeeeeeeeeeeeeeeeeeeeeeeit.