Before I took on some coding projects today I was compelled to GIF. I hope someone other than me can explain it to Sandy Jensen Brown (you get a daily create chance for that on August 21).
As often, I was motivated by Michael Bransom Smith's response to something called GIFfight
Dark Side Around the World http://t.co/wI5icoMVpL #giffight @ryanseslow @abelincolnjr @generalhowe @jimgroom CC: @cogdog join in!

— Michael B Smith (@mbransons) August 12, 2013
I love the concept, its in the vein of ds106 Daily Creates – simple. Go to http://giffight.tumblr.com/. The rules are pretty complex:
GIF FIGHT!! presents a JPG or PNG each week for you to animate the crap out of. Send us Tumbler links here or via Twiitter #GIFFight.
This week presented a Darth Vader pose: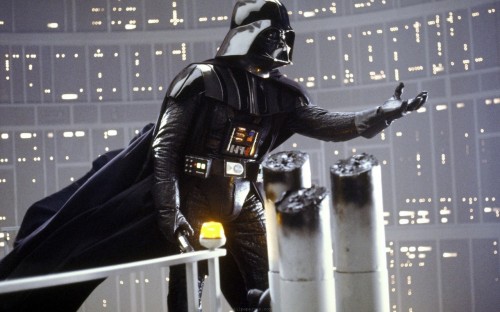 I first thought making him croon like an opera singer, but then again, I saw hime playing a mean wicked guitar, doing some Pete Townsend windmill chops. I had found previously in west texas the source of the action:
So a little dissection of making Darth Vader try on his response to Tommy Smothers "That's a pretty…. wild style of playing guitar, how did you learn that?"
This was all done in Photoshop CS.5 in 5 frames:
The starting point is to figure out what parts are going to move and move them to separate layers. I used magnetic selection (I need to start using path based selections like Michael taught me) to extract the arm cut it out and paste to a new layer. The same for his head, cause his head needs to bob.
I hide these layers to go back to the base, and use the clone tool to fill in the empty space behind. This is the key key tool for this work, getting good at using it to copy elements from nearby to make the background look coherent. For the guitar, I searched google images for Gibson Guitar PNG (cause a background transparent PNG is easier to work with). I felt like Darth definitely needed a black flying V (hah its an Epiphone, oh well).
In the animation window, I use its own menu to do New Frame 4 times so I get 5 copies of the frame.
To animate the arm rotating, I had to make copies of the "arm" layer. For each subsequent frame in the animation, I would make a copy of the layer, then rotate it to a new position (keeping the previous layer visible to I got it positioned right), with ultimately a 360 rotation of the arm -here they are all visible
I did some touchup with the eraser on the shoulder to remove a few artifacts.
For the head and guitar movement, I don't need to make copies of the layer- I can go to each frame and nudge their positions with the arrow keys, and having them move up and down.
That's pretty much the effort. If you want to explore the file, download it from the doghouse (6.6 MB Zipped PSD)
I love the idea of GIFfight and it was cool to see RockyLou, Michael, and that Groom Guy join in as well.
We are definitely looking at rolling GIFfight into the ds106 Daily Creates and likely the headless ds106 syllabus.
Get yer GIF on!