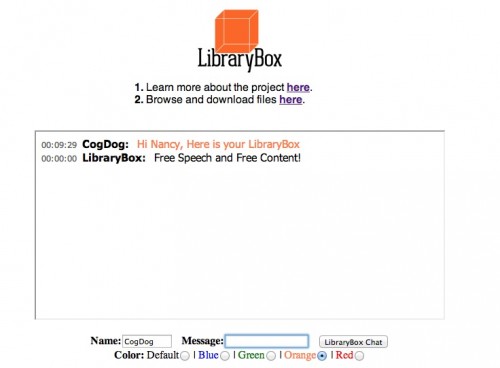 It's been a while since I touched my StoryBox (c.f. unfinished projects, 1963-2013). I had bought a new router that the PirateBox inside uses, thinking I might use it last Spring, but never got around to it.
In the meantime, in getting to talk frequently to Nancy White as we work on the Project Community class, she asked if I could help set up the newest iteration, Jason Griffey's LibraryBox, for her upcoming travel to Africa and South America. She caught em days before I leave on my own travels, so I offered to use the one I had to set it up.
The new instructions are much easier to follow… until I got stumped by the first step where you telnet directly to the box to update the firmware, and I could not even connect to it! #TechFail
I posted a note to the forums and was not all that surprised when the lead developer Matthias responded quickly, though cryptically asking if I had tried to boot it in failsafe. I found the instructions, and was able to at least get to the openWRT interface through telnet. My efforts to reset it did not seem like ti worked, and it was unable to read the mount point of the USB where the firmware file sat.
Matthias responded that the fact I could get that fair said the router was working and offered another method to get the firmware file on the device. Essentially I connect to it via ethernet and a static IP, and run a small python web server on ym laptop that the box can access via this small local network.
and that worked!
Well, until I went to the next step where I have to enter the network numbers in the /etc/config/network file. This is always the trickiest part since you need to connect the box to your main router, and you need to know its gateway address and the range of addresses it distributes. My home network is via an Apple Extreme connected to my cable modem, and the numbers it yields for the itself as a gateway reflects the address of the main cable router, not the Extreme. But last Spring, knowing this was an issue, I had purchased a cheap linksys router specifically for this purpose, but to switch it and get the settings, I had to disconnect the piratebox, and ended up having to redo the steps above.
For more own records, the numbers I used were:
option

gateway

"˜192.168.1.1'

option ipaddr "

˜

192.168.1.100

'
And from there every step in the instructions went smoothly. At 2:00am 😉 I could not let this one go.
And now I can mail it to Nancy, and cross one thing off my list as done.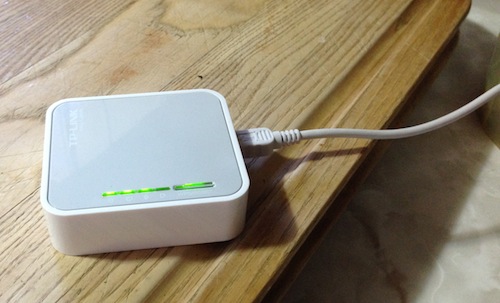 Nancy is taking it to Rwanda, Kenya, Tunis, and Columbia and plans to use it to share resources in the many places she will go lacking internet wifi.
I hope she knows that this version can still not transfer chocolate 😉