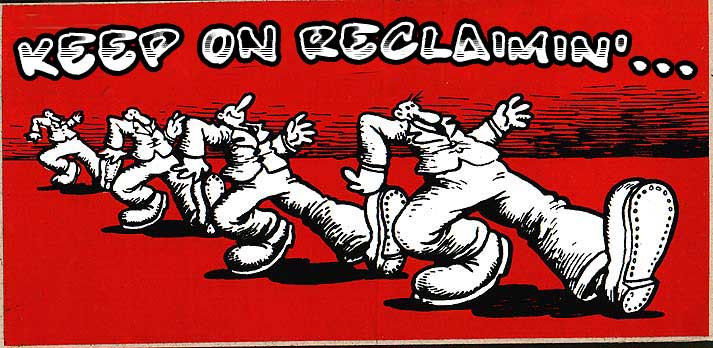 It was truly rewarding last week to travel to Los Angeles and represent with Martha Burtis, the legion of ds106 at the Digital Media and Learning Research Hub Reclaim Open Learning Symposium. We were being recognized as one of five top examples of "organizations that are transforming higher education toward connected and creative learning, open in content and access, participatory, and building on a growing range of experiments and innovations in networked learning."
We were in good company with two other projects that do this reclaiming via a distributed network model of learning, a.k.a. the original cMOOC (REDACTED for #mooctober), the others being phonar, the open photography course at Coventry University and FemTechNet or DOCC (What's Up?).
This recognition by DML suggests this distributed, non superstar professorial, less than giantly massive open model has legs. It is after all, based on something that has scaled well, the internet itself.
Right?
Ask Howard Rheingold, who is putting the same model to use now with a Reclaim Hosting site running his Social Media Issues class for Stanford University.
Howard is totally #4life with #ds106

cc licensed ( BY SA ) flickr photo shared by Alan Levine
Better yet, this gathering meant being among friends/colleagues, fellow winners, one might say a British Invasion of Reclaiming, with Jonathan Worth here for phonar, and Josie Fraser, another winner, for DigiLit Leicester

cc licensed ( BY SA ) flickr photo shared by Alan Levine
The symposium opened with a conversation with John Seely Brown a.k.a JSB and Amin Saberi (Yet Another Stanford Prof Spinning Off a M-Word Company– CEO of NovoEd), moderated by Anya Kamenetz
On the next day, we started with open demos of the projects, here John Seely Brown tunes into Phonar

cc licensed ( BY SA ) flickr photo shared by Alan Levine
Martha and I found that in trying to explain ds106, it was never the same each time. We had a live ds106 radio broadcast going, so sometimes we talked more about that component, others about the course, or the assignment bank, or the community, or the headless course

cc licensed ( BY SA ) flickr photo shared by Alan Levine
I was both taken back and somewhat pleased that ds106 is not so easy to encapsulate. There is too much there to try and make understandable by talking about it, you get ds106 by doing ds106.
If anything comes close to really getting to the heart fo ds106, it is a just released podcast by ds106 participant Brian Bennett who interviewed Jim Groom and I a few weeks ago. Brian really shows his audio show editing/production chops with Chalkstar to Rockstar #05 "" ds106 Is The 5th Dimension of Teaching and Learning
The day was a whirlwind blur. One panel on "Connected Learning, Digital Arts and Humanities" was ds106, phonar, and FemTechNet (who are very well represented by students Susie Ferrell and Jade Ulrich) – here is the audience, which may not seem huge

cc licensed ( BY SA ) flickr photo shared by Alan Levine
But we have Mimi Ito front left who represented the entire Internet, so the audience was huge and the session deftly handled by moderator Liz Losh
At mid day, there was a sign that learning might be open, but lunch was not 😉

cc licensed ( BY SA ) flickr photo shared by Alan Levine
The afternoon got even more blurry as Martha and I were roped in by Howard and Anya on some kind of mission to do something I still do not full understand:
We will work all day to create a distributed multimedia open course on Reclaiming Open Learning, hacking together a syllabus, activities, assignments, competencies, and more across platforms.
I am not convinced a course on reclaiming open learning is really what is needed, what is needed IMHO is more community and networking. But people did brainstorm in an open google doc, and then Howard asked Martha and if we could hack something together. I have to hand ot to Martha, she stepped up, registered a domain (Howard footed the bill?), and showed the small group her clever approach to building a site to capture and organize resources.
I sat in the back and toyed with the site innards and theme.
Here is where this unraveled for me, because the outline of the course ended up being a resource collecting thing. It was a good discussion, and the group got a chance to see something come together quickly.
I am not sure what will come from it, but the domain is out there http://reclaimopen.org/.
See the thing is, I don't get what is being reclaimed? Open learning has been happening in many corners and growing for some time everywhere except in magazines and newspaper headlines.
There is of course maybe it being a counter movement to the M-word thing?
I guess I feel nothing to RECLAIM, since I have never stopped claiming open in the first place. I'm not trying to be a snob about this, but the whole notion of reclaiming something is fuzzy. Claim, reclaim, just be out there in the open being open, and connected, and doing open learning. Thats what all five groups are doing.
But then again, raising awareness and pushing out more about open learning cannot but be a Good Thing.
I do understand that the site (maybe http://open.media.mit.edu/) will eventually list all 80 some projects who applied. That is worthy to recognize all of them. And more beyond them.

cc licensed ( BY SA ) flickr photo shared by Alan Levine
Claim, reclaim, course, community, where-ever it goes has a somewhat William Gibson-y feeling of being not evenly distributed. So go find it, connect it, or do it. Don't wait for a course to tell you how.