I'm not to sure the relevance of that Bill guy or the Mark dude, but take some time out next week for the An Hour of Code project:
It's a one-hour introduction to computer science, designed to demystify "code" and show that anyone can learn the basics to be a maker, a creator, an innovator.

We'll provide a variety of self-guided tutorials that anybody can do, on a browser, tablet, or smartphone. We'll even have unplugged tutorials for classrooms without computers. No experience needed.

Watch this "how to" video for more information. Check out the tutorials in beta.
I hope ds106 people note the relevant age range: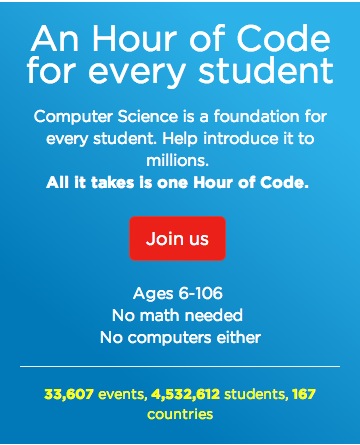 There was a time last year when i was pondering with Jim Groom a possible subsequent class to ds106 that might focus on a code/scripting level, not trying to turn people into C++ programmers or python growers, but just the kind of conceptual understanding you can do with basic conceptualizing how URLs work, how web pages are structured, and how to use things like existing javascript libraries.
Well that went into the Big Bin of Ideas That Might Never Get Done.
In the meantime, this is the direction being pursued in a big way by Mozilla Webmaker. I came to the Hour of Code project via the WebMaker blog An hour of code to shape the web we want (and there via a tweet that I lost track of).
Mozilla is organizing local maker events (make with other people) as well as offering a list of "makes" one can do in support of an Hour of Code… not to be too self serving, but I am proud to see my Thimble make Cory Doctorow's Mood Room listed. That is not why I am suggesting looking here, there are a pile of great projects that get you into code through the guided see/change.try again interface that Thimble provides.
I am not quite sure where to plug this into ds106, but anyone who enjoys the creative activities we do there would get into as well the Hour of Code activities.
Surely you can put aside some email reading or Facebooking to do some code. Heck, I might even be okay (maybe) if you put aside some ds106 time.
How shocking is that?
Check out the Hour of Code, and spread the word. But do not just tweet links, Make Something!