It's great to see a lot of folks taking up the Tate Museum 1840s GIF Party, as a ds106 assignment, and on giffight. I could not rest without finding one more to do.
Walter Richard Sickert saw the typical tranquility of a French street scene in Café des Tribunaux, Dieppe, only missing the smell of fresh baguettes and gentle hobnobbing noise of such a cultured people.
But Sickert really was not observing all the street action; apparently the Americans were cruising around in an 1890's Hummer…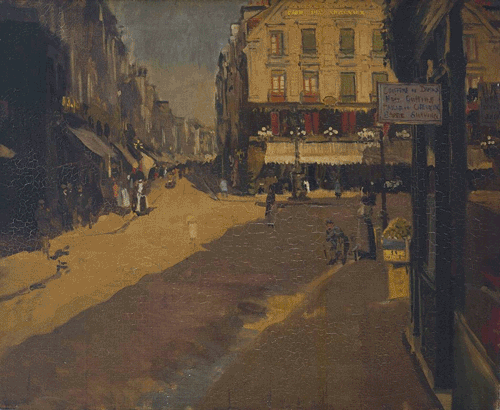 (Modified the first version to add more slow street animation, a bouncing ball, tumbleweed at the end)….
Get your GIF on the Tate's artwork, do so before February 2 to get yours included in the show.
The post "Café des Hummer (1890)" was originally pulled charred and crispy from a smoky charred oven at CogDogBlog (https://cogdogblog.com/2014/01/cafe-des-hummer-1890/) on January 30, 2014.