cc licensed ( BY SA ) flickr photo shared by Alan Levine
This is no list of career highlights for 2013, no roundup of top viewed blog posts, no prizes are being given, just another day the wind blows and rips a page of the calendar that falls on the floor.
If I were to look backward or forward this year, it would be through a lens, one attached to me camera (and usually one open to a wide aperture). My Aperture (the software) library shows 6959 photos in 2013, or about 19 per day (there's probably another 200 or 300 posted directly from the phone). I delete the ones not work keeping, and usually by kept to shot ratio is about 1/3.
So if there's anything I want to look at, think about, or post on the virtual refrigerator, it's going to be something I saw through a camera.
Doing It Daily
If anything sustains me and my state of mind across time, it's the now old habit of posting daily photos, for which I credit and thank my friend D'Arcy Norman who has done this since 2008. His effort in 2007 drove me to try it in 2008, and I have taken it on every year since. The flickr group we started in 2008 (it being a leap year, means the URL is wrong 3 out of every 4 years) topped 1000 members this year. I have little idea who they are or what their own daily approach is, we have no instructions, and nary even much discussion this year.
So a group of several hundred people around the world, gather around a topic, but engage in a way they define without any curriculum, structure, or leadership. It just happens.
I managed to come up 24 photos short this year, in some cases I forget to add them to my set, and there were other gaps of unexplained reason. Rather than fret about not hitting a perfect 365, I prefer to celebrate the ones I have- a lot of places traveled, flowers (a lot of sunflowers from my summer at home), weird signs, one hung doll, friends, dogs, dogs, and dogs, trees, sky (I thought I could embed a flickr set, but these days one is regularly confused by the flickr interface. To be honest< I am not all torn up over the interface changes, I just shrug and accept it.)...
A good proportion of my photos are from my own tiny (1/3 acre) yard. I enjoy the prospect of finding a new details, light, shadow, on something I have photographed before. Many times it is getting on 4:30pm, the sun is going down, and I realize I have not taken a shot. Stop, drop, and shoot! One strategy is to shoot a few shots in the morning to have as a backup in case I forget later in the day; a better strategy might be to do a walk every day and get out a bit more.
In many cases, I pick a photo that is not necessarily the most technically interesting, maybe it matches what is going on on my head space, or an image just has an interesting juxtaposition (often arranged), sometimes it is an ordinary image I can (try to) make more interesting with a clever (in my small head) caption or title.
This is one activity in my life I am ferociously dedicated to, and part of my core belief that regular acts of creativity are good for a person at all levels of goal, for creativity, for getting better at something, for just having a regular mental task.
Organizational Theory Practice
As a method, I us4r Aperture (again the software) to mark my favorite photos with a five start rating, which makes it easier on some interval (measured in months), to export these "better" shots. I then upload them to my Barking Dog Studio site as a portfolio of some sorts
I have modified the Graph Paper Press Full Screen Theme to make this site my own– changing the front page to load random photos (instead of recent), redoing all of the archive pages (example example example) to be both a grid of photos as icons and a text list.
The big custom development was custom code to extract all of the photo metadata that WordPress can grab, and automatically append it to a post. This means that creating a new entry is a matter of uploading a large image, and maybe adding a category and tag, there is no post to author beyond the photo.
This year's changes included creating a category I call "behind the photo" where I pick an image to narrate some more about what went into making the image (I also use Feed WordPress to import those to CogDogBlog).
I also added a category for photos where I use a custom metabox

if a photo is available for printing and framing on my ImageKind site, this info can be added to a post (example).
I also added a few more sets in flickr (just need to remember to keep adding stuff), faves are pretty much the same that end up on the barkingdog.me site.
Another one that seemed work tracking this year (because it happened 3 times) were photos of people who decided to use them as their social media avatars.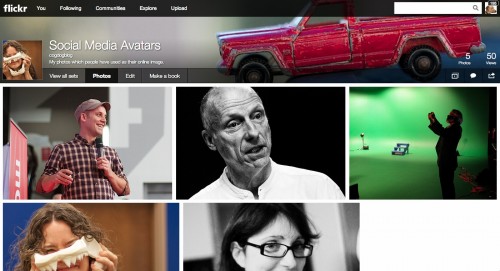 And one more set to track photos that have been reused in other sites or publications; I wish I had been doing this for a while, and much of the trail I can find on my flickr mail.
Oh flickr, despite your odd design changes, funky tag behavior, features that come and go, I am still true to ya, here coming up in 2014 on my tenth year of sharing my photos here, recently topping 35,000 total.
Oh Yeah, Instagram
I had forgotten or stopped using Instagram for months? a year? Maybe it was the facebook purchase, maybe just amnesia, but I picked it up again. People can try all kinds of ways to figure out the "why"– there is a pat on the back sense when people register a like (cheap as it is). There is the odd exploration of tags. They improved the editing features in the mobile app (rotation is nice, and a little bit of tilt shift is handy).
But for whatever reasons, many topics seem more appropriate for Instagram. Food. Funny signs. Things that work well in the square format. So I have been doing a bit more, and in the time since I griped a lot, you can actually have a web public portfolio, http://instagram.com/cogdog.
I'm always impressed, awed by the photo work of Dave Caleb (whom I did get to meet in March, a treat). Dave is a pro with the DSLR, but brings great composition to his mobile photos, and I have been sponging up inspiration and techniques from Dave's Instagram feed. If you want to be like Dave, make use of the free Google Snapseed photo editing app.
For Sale (Really?)
My friends at THAT Brewery in Pine AZ have been nice enough to invite me to put some photos on their walls and make them for sale. I've had some photos also up at the Randall House Restaurant for maybe 2 years (also in Pine, highly recommended just for Barb's cooking), and I think I have sold 3.
For the Brewery, I thought it worthy to put up photos of not just beer, but of beer making! Steve allowed me twice to spend a morning watching and documenting the process (some of these are on flickr). They have used my Bokeh Beer shot on their web site

cc licensed ( BY SA ) flickr photo shared by Alan Levine
and I tried a few more variations of that recently thinking around the holiday's it might be of interest.
I guess it was; one sold within two hours of putting them up.
All along I've kept in the back of my mind words that friend and fellow photographer Devon Adams said a few years ago (paraphrased)
Alan, you share all your photos for free on flickr; why should I pay for something on a wall when I could just download it and print it myself?
So with the cost of printing, framing, time assembling, and the percentage that the site takes, how to I make it worth my while? Or is covering costs enough for the ego boost? And what is the value of buying a print that exists for free online?
Well first of all, you are in the brewery, and if you like a photo, you can take it home. Convenience. But more that that, when you buy a piece of art, the cost is not just the cost of materials or replication. It should be an investment in the creator, an incentive to do more.
So my approach is (for now) to offer the print signed (yeah that has value). I have been doing inexpensive frames, to keep the sale cost low, but also because I figure people want to do their own style framing, let them choose (maybe I am lazy). But my strategy is also to give people the option, if they want a high end print, custom matte, and frame, to order it done on my ImageKind site. I have ordered copies of my own prints from there, custom framed, and its at least 3 times the cost of me doing it myself, but it is also better quality (e.g. you can get matte finish print any size, non glare glass).
This is still just a thing to test the public waters with my photos. I have zero grand illusions of fame/fortune. And it is plenty when someone just comes up and says that they really like a photo.
And that is where the whole photography things ends- like blogging, it is really for my own goals that I do it.
And it's the practice of not just taking the photo, but editing every night, writing captions, looking a a way to improve a shot by cropping or turning black and white that do something for me.
And so they idea for writing this post, became the impetus to set up the shot at the top, me looking through the wrong end of a wide angle DSLR lens, taking with my iPhone (and edited in Snapseed). This was the very first photo of 2014, and might end up as the first of my Daily Photos (it depends on what else I got today).
There was some carryover connection, as the last daily photo was a different lens to look through the other end

cc licensed ( BY SA ) flickr photo shared by Alan Levine
This non camera but lens contraption is at my eye doctor. And having that view meant finding out I will need surgery this year for cataracts… yes, my own eyes need new lenses.
I am still looking through my lenses at the world.