cc licensed ( BY NC ND ) flickr photo shared by Gino Carteciano
My first flickr photo was posted in late March 2004; my most recent one, last night (February 8, 2014), that's 35,693 photos.
I just downloaded almost all of them; a 71 Gb file that took more than 13 hours to download, and maybe 15 minutes to expand the archive.
But I did not get them from flickr; for quite some time, maybe I was one of the first wave of users, I used a service called Backupify, designed originally to automaticall backup in the cloud your social media content– for a while it did delicious, twitter, Picassa, instagram, GMail, and a few more I am forgetting. But they also ran backups of my flickr photos.
Recently I got an email that said more or less "Thanks for all fish files"
Last year we announced that we were phasing out our consumer services to focus entirely on the enterprise. It was a difficult decision, which you can read more about here. Ultimately we were not providing the best experience to our consumer users, and we could not find the right business model that would allow us to do that.
The email had a link to request a download of the backup, which, after logging in, ended up asking me to email support.
I found out why.
I was told my backup was 71 Gb! They had to run a special script to generate a backup I could download. This was not critical since I do have all my original photos all since 2006 organized in Aperture, and all prior "organized" as a pile of CDs in a box.
But I was curious as to what the backup looked like. What I found out there are backups and there are backups. I got all my original photos, but little that would help re-catalog or re-import into any things else.
Expanded the director was actually 77 Gb, and contains 47,000 items (there are more because any photo that had comments or meta data has an accompanying XML file)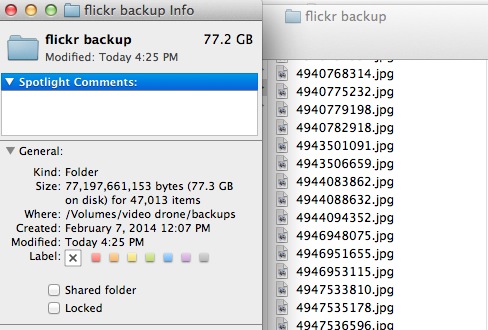 The photos are named with their flickr ID, the first file is 717314.jpg from October 5, 2004
which is 26th of all my photos, so they almost grabbed them all

cc licensed ( BY SA ) flickr photo shared by Alan Levine
The last one in the archive is 12113905314.jpg a shot of my bathroom renovation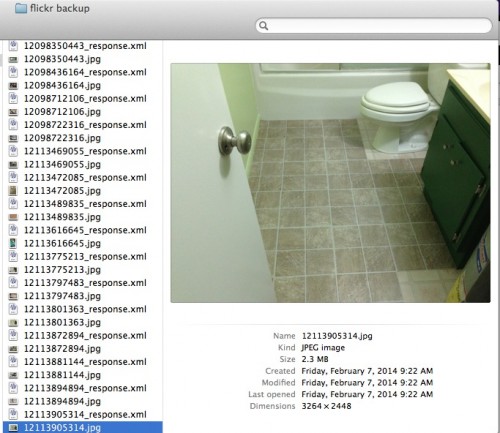 which was finished just this past January 23, 2014. I am guessing this is the date the downloadable backup was generated (?)

cc licensed ( BY SA ) flickr photo shared by Alan Levine
Since they are backup copies, there is no original meta date in the images, not even a date stamp. There are about 12,000 images that have an associated meta data XML file; I am not sure why many of them lack meta data. Meta data is meta data–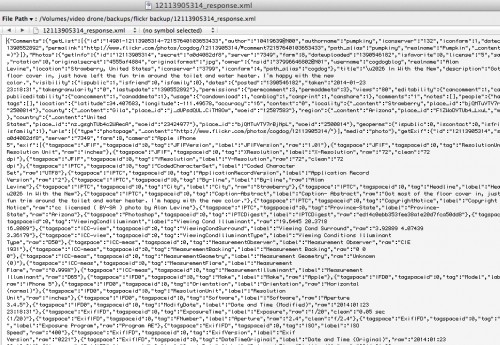 But at least I have the originals. So each file named xxxxxxxx.jpg I can easily look up as http://flickr.com/photos/cogdog/xxxxxxxx/
And yes it is a backup, but not any one that could be restored anywhere. Not that I would ever do that with 70+ Gb of images.

cc licensed ( BY SA ) flickr photo shared by Alan Levine
As Chief Brody might have said when he was chasing down his giant beast of flickr photos… "I think we're gonna need a bigger hard drive."