cc licensed ( BY NC SA ) flickr photo shared by Harry Scheihing
I have no idea if this image has any meaning here. It's fun. Or scary. Or just wrong. In which Alan finds that searching flickr for creative commons licensed images tagged "vector: gets alot of people's efforts at graphic design with Illustrator, et al.
Yeah, the #thougtvectors hash tag will be long. Be more briefer tweeters? Or heck, it might change. #thoughtvectors connects to a summer 2014 cMOOCish type course out of Virginia Commonwealth that bears the aura of Gardner Campbell.
Tom Woodward shared the first semi unofficial word on this course, long titled "Living the Dreams: Digital Investigation and Unfettered Minds". The actual course is UNIV 200 "Inquiry and the Craft of Argument". T
The email description that Tom posted actually came from something Gardner wrote when I introduced him to my former Maricopa colleague and friend Shelley Rodrigo (official prof page, where's yer blog, Shelley? and I hope you latch on to this train) who is now down the road from him at Old Dominion University.
Gardner invited me to join him, Tom, and Jon Becker into the planning for this just this month, so I'm a new kid on the block; I get the sense they have been power brainstorming this for a while. It's going to be super emergent, meaning it is still pretty much a protozoa stage of development. Bus the cells will be dividing madly in April.
The plan calls for a lot of distributed activity, so I'm on deck for putting together a new iteration of an aggregator, but one on steroids. What it will be is still cooking. But in our first discussion we agreed we ought to be saving the stuff from this "making of stage".
So here is the early pre-alpha bit of a "reader" more or less something I dabbled with for a day as a WordPress based feed reader. This is my taking of Martin Hawksey's (m)oocinabox code he did for the ALT-C site and set it up on a new install.
I have as feeds my blog and Tom's, a flickr feed on the thoughtvectors tag (me jut retagging a fe wold photos), and a feed on the twitter hash tag (run through the labnol script that turns the jSON feed into RSS). Not much.
The thing I can see doing is an ability to use categories or tags to do what Google took when it shuttered Google Reader (/me shakes fist at Google)- to group feeds into "bundles" to re-feed them back out. I've not seen any of the new kid readers offering this.
Okay, I've dodged and danced around. This is far from the final deal, but I figure what comes is theming and adding functionality; if we start collecting the raw data now, we can change how it appears later. This baby is sitting now at http://vcureader.wpengine.com/.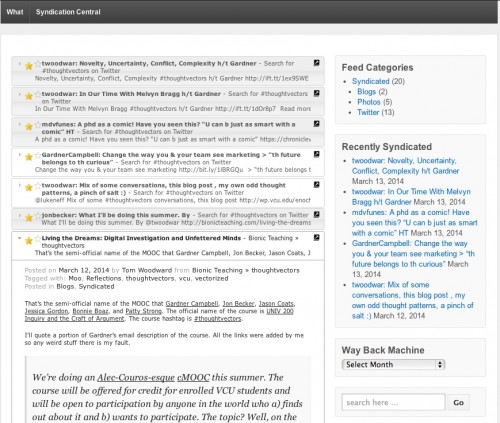 The main reader with Tom's blog post toggled open. The brilliance of Martin's code is something more browse-able than a flow of blog posts. I *think* it tracks read posts by coloring them white. I added the plugin for favoriting posts; the way Martin used it, people could log in and their act of favoriting created an upvote type system, along with tracking who even viewed items.
This will not again be the end product. Martin is coding a new version for a course he is setting up for May, and has offered to let me peek over the code shoulder. His newer iterations are using BuddyPress for managing the user profiles and activity streams, something we may be doing as well for #thoughtvectors and/or using Commons in a Box (my research plate).
If you plan to perhaps be part of this experience and what to add your blog feed now, let me know (I need to know Jon and Gardner where you plant to blog and what tag/category- that was a nudge). We also need to sort out where people might do some social bookmarking to add to the pile– diigo is looking most likely (oh delicious what do the tags not work beyond my account?)
The big question is how to represent and organize, recast the community activity? That ism what are "thought vectors"? ideas with force and direction, right? I know Tom is interested always in timeline interfaces. And that is the unifying piece of data, when we aggregate we get a time where something was written, tagged, tweeted etc. And we should have the "who" as well, plus extra info like additional tags to connect the activity in hopefully useful ways.
To be seen…
Oh, and of course am automatic thing was setting up a Hawkseyian Twitter Tags worksheet to archive #thoughtvector tweets. Right now, its mostly Tim and Jon saying "#thoughtvectors" — but it just works so well to provide different windows and doors into twittering.
The most fertile for exploration is of course the tag explorer, to try and understand the relationships between participants:
We can even peek into one node (hello Jon!)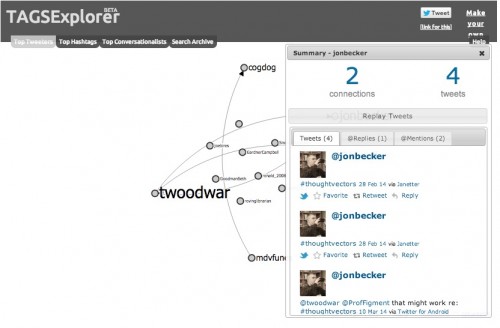 Again, this is just me putting out the ideas in the early state (and adding another feed log to the fire)… it shall be narrated!