The other day a colleague asked my thoughts on a system (yes open source) that makes it "easy" for faculty to create profile pages. Scanning the examples, I found relatively clean pages driven by web forms, standard portrait photos. But it felt as lively as a rental neighborhood that looks like

creative commons licensed ( BY-NC-ND ) flickr photo shared by Carnotzet
And I cannot help but wonder what is the incentive for an individual to represent their own hard academic accomplishments in a institutionally owned site the individual must must revisit on a regular basis to tidy up the ornaments in the yard?
How do you really stack that up to something people maintain as their own spaces?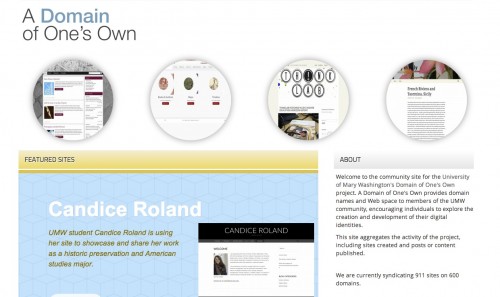 And here comes the Greek Chorus…
That's too hard. Faculty can't/won't…
Really? People who have devoted large chunks of their lives and energy and hair in the pursuit of deep academic inquiry?
It has to be "easy".
Let Todd Conaway explain the pitfalls of the "easy" button:
My question would be to anyone who prefers to underestimate the abilities of their colleagues (cause that is what you are doing) to think about the key findings in their academic discipline, the discoveries, the exploration of a new way of thinking… did any one do this by taking the easy button?
I've looked recently at an LMS based open course, its lists of modules and documents, all designed with the elegance and curiosity of a shopping list, all to be easy. I clicked away feeling… it has all the excitement and motivation of reading the back of a package of alkaline batteries.
Easy.
A learning experience should never be designed to be easy. When we learn we should stretch, we should go beyond our bounds… One of my all time favorite quotes is from UMW History Prof Special Assistant to the Provost for Teaching, Technology, and Innovation Jeff McClurken in his philosophy:
I want my students to be uncomfortable, but not paralyzed
Not "I want my student's learning in my class to be easy. I'd really prefer they do not try very hard."
The opposite of easy is not impossible.
Set the dial as high as easy…

creative commons licensed ( BY-NC-ND ) flickr photo shared by John's Brain
…and enjoy your easy meal.