In writing up the current ds106 lesson on telling stories, I provided some updates tips in how to download video form YouTube (and other services). In the past I have recommended KeepVid (requires Java, so its no go in Chrome). Since learning about it from Tim Owes, I switched to pwnyoutube, specifically the bookmarklet tool. I've seen it not work for periods, and lately Chrome has been tossing up a click through unsecure script warning. But last time I passed by pwnyoutube I noticed a new service– and it has smoother dance moves than the others.
SaveFrom.net not only can download video from YouTube URLs, but also another 40+ different audio/video sites. But the cool moves begin when you install the helper extension.add-on — it looks like it works for IE, Chrome, Firefox, Safari, and more.
And this is what makes it best- in YouTube, vimeo, and more, it adds the download button right in the page. Toggle it open, and you get a few choices of formats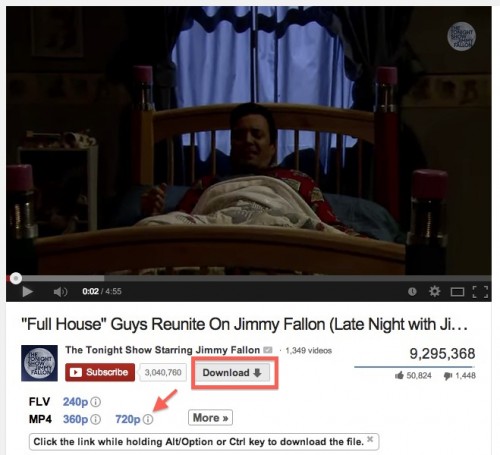 But wait, there's more.
You get access to the same tools from an embedded video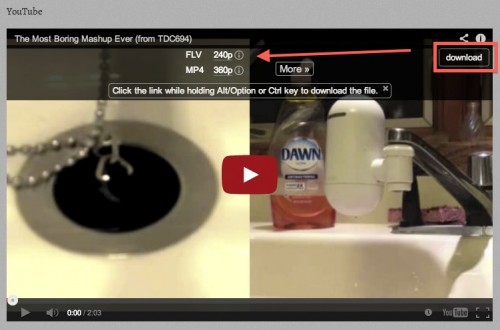 I'm not done yet.
If you come across a hyperlink to a downloadable video, you get a little down arrow icon; click it once and you end up at the SaveFrom.net download page with the URL loaded for processing

For those three reasons, I am now using and primarily recommended SaveFrom.net for downloading web videos.
But these gyrations and moves should not even be necessary. YouTube has an option to put a Creative Commons By Attribution license on your videos (any clue why they only do one CC flavor?).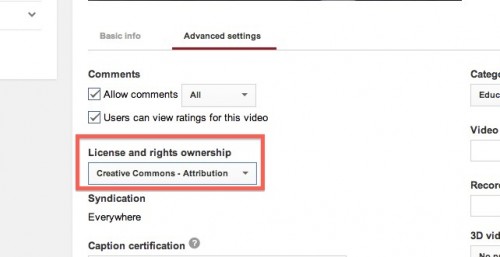 If I select this option, how is anyone going to get a copy to re-use? All YouTube provides for this license is
Creative Commons licenses provide a standard way for content creators to grant someone else permission to use their work. YouTube allows users to mark their videos with a Creative Commons CC BY license. These videos are then accessible to YouTube users for use, even commercially, in their own videos via the YouTube Video Editor.
The only thing YouTube lets you do with a video someone has released under Creative Commons is to use it in the YouTube Editor?
Awkward dance move, YouTube.
Dip.
But here is the thing.

creative commons licensed ( BY ) flickr photo shared by keirstenmarie
Google seems to look the other way at all of these external services providing video download from YouTube (while at the same time allowing Record Companies and Movie Studios rampage users who remix Content Id matched stuff). In essence, Google says remixing YouTube videos is something they look away at although, as the kids say, "everyone else is doing it".
Including Google.
I really thought when I pointed this out last month that someone might even notice, or more shockingly, leave a comment.
Essentially, Google has created an ad for themselves, a COMMERCIAL, using clips from YouTube users (legally they have a right to do so in their terms of service)
But did Google have to use goofy downloaders to get the video clips? No, cause they have the video files. Did Google provide credit or attribution to the owners of the clips? No, legally they do not have to.
Stop. In creating an ad, a COMMERCIAL ADVERTISEMENT, Google is condoning remixing of YouTube videos.
Why doesn't Google stop the goofy dances we do, and just put the damn download button on the site? At least for people have have marked their videos for Creative Commons attribution.
It's just un-necessary gyrations