Dad,

This is your long awaited letter that's taken more than a semester to write. It's nice to hear you talk more openly in your letter and hope we can talk more in person. I've found sometimes it's easier to write your feelings than say them, but I think it's better to be able to talk in person.
Circa 1981, plus ça change… yadda yadda.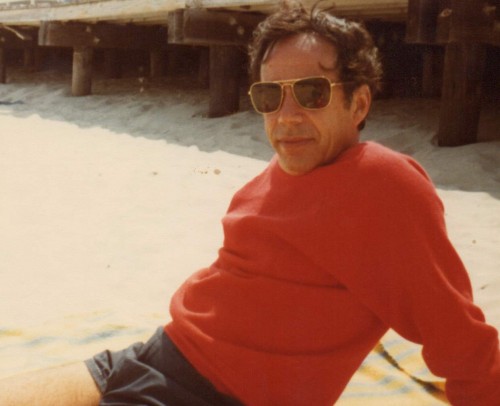 You, in 1981, in your element– on the beach in Ocean City, MD. Our "big" annual family trip, 150 miles drive. I go almost that distance now to get to an airport.
You, in 1981, now just 4 years older than I am now.
You, in 1981, now as you always were, now but snapshots, old yellowing letters in an envelope in a box in my closet. Me, in 2014, still wanting those conversations that were rare. But treasured.
I cannot say I am father-less on Father's day because you are always there, on the beach, cutting the lawn, watering the lawn, weeding the lawn, savoring steamed crabs, your carefully coiled lawn hose (my friend Kevin always needling about that contraption), walking me to Little League games to watch me stand in right field, teaching me how to ride the ocean waves on a raft (those heavy duty rafts from Sunny's Surplus lasting decades), reading my blog… yes, maybe that's what a lot of this blog writing is for me, the new letter writing. To you.
You, reading every blog post, not understanding the jargon, but still printing all them out, three whole punching them, neatly organizing them in a notebook. Me, just relying on the search button.
You, like clockwork, every Saturday, washing the green Impala and later the blue Lincoln and even later the red Grand Marquis. Me with a dusty red truck that maybe gets washed once a year.
You, writing letters by hand in careful, clear block letters. Me, bad form typing full of spelling mistakes.
And yet, there I am for 45 minutes this morning, outside with the hose watering the flowers, the garden, lost in peaceful drifting thought. A blissful space where everything else is far away. I would look out the window at you standing in the yard with your hose, wondering what the heck you thought about standing out there all that time.
Now I understand.
Likeness and unlikeness, our genetic strands much more complex, chaotic than linear functions from you to me.
While my hose is not reeled carefully, like you I have my own contraptions that make systematic sense.

creative commons licensed ( BY-SA ) flickr photo shared by cogdogblog
And now tears in the keyboard.
Me, like you, unlike you, without you, and with you all at once. Watering.
love, Alan