creative commons licensed ( BY ) flickr photo shared by martinjetpack
A few weeks (or more) ago Karen Fasimpaur asked me if the new DS106 Assignment Bank as a WordPress theme was reliable enough to be used for the 2014 Making Learning Connected MOOC. I forget her exact words, but something like, "Can you re-assure us that it will not blow up?"
I do question guarantees, even more so when it comes to Other People Using My Code, but offered to assist in anyway.
No smoke or flames are in sight, but they turned on the lights this week for the CLCMOOC Make Bank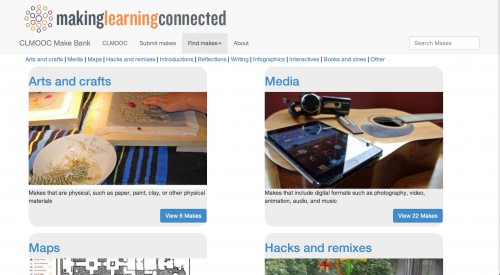 where the items are "makes"
For those new to the idea of "makes," they are a big part of #clmooc. Over the course of the MOOC, there will be multiple Make Cycles during which time we'll all be prompted to create and build, digitally as well as materially, individually as well as in community.

A "make," as we use the term, is any project or work where you are creating something. In this MOOC, we draw heavily from ideas from Connected Learning, which emphasizes creation and empowerment. In this MOOC, possible "makes" could include something you write (a story, poem, play, etc.) or draw (painting, comic, etc.), a web page or app you create, something you bake, or a social network or connection you form. We'll be connecting "makes" to the Connected Learning principles, and while we'll suggest some "makes" you might do, we really hope that participants will come up with their own ideas for makes that are meaningful to them. Our suggestions for "makes" are merely that "" suggestions.
In many ways, a CLMOOC "make" is like a DS106 assignment, but with a categorizations around the types of activities rather than media types. A random example, Make Log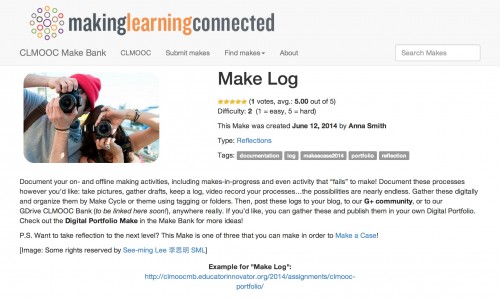 In 2013, Karen and colleagues had built out a Make Bank on their WordPress site using gravity forms but she seemed keen on moving that into the form it is now– I think she migrated all of the content from the 2013 site.

creative commons licensed ( BY ) flickr photo shared by martinjetpack
I cannot say enough how much the code and concept has improved from the back and forth working with Karen and Brad, much of it for me to think more broadly beyond the way we frames things for ds106. The layouts are cleaned up, we've added tagging, simplified the way they are organized, better presented examples, and knocked down quite a few bugs (e.g. not being tied to permalink choice, using the theming of the PostRatings plugin, making the search field actually work right, just to name a few).
I have a batch of documentation to update on the repo site, but it's there if you are brave to try https://github.com/cogdog/ds106bank and at least now we have one built out example of it in action.
A big High Five, it flies! Check it out, add, make, link and get yourself involved with the Making Learning Connected MOOC.

creative commons licensed ( BY ) flickr photo shared by martinjetpack
I hope more like an eagle than a zeppelin.