creative commons licensed ( BY ) flickr photo shared by 43studio
Red Dog truck is loaded with camping gear and mountain bike, and ready to hit the road for a ~2 week road excursion. It's time to get out of Strawberry a bit, and visit some friends. Plus, this is the warm up for a mid October commute to Kamloops, BC (never mind my Arizona friends puzzling over the idea of wintering in Canada).
This trip has some planned visits, but not tightly planned so I have room to improvise. Roughly, the route is: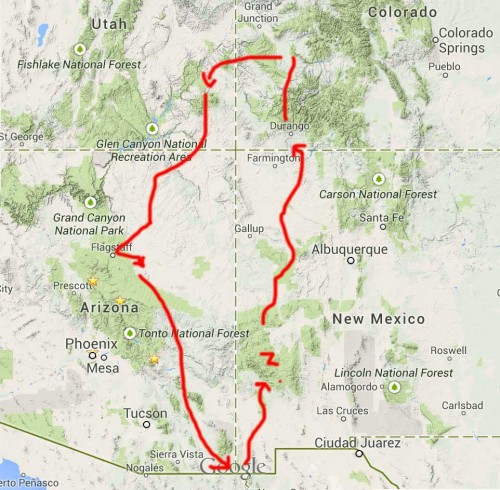 Today I drive down to the very southeast edge corner of Arizona to visit Karen Fasimpaur and Brad; I had a lovely time visiting them a year ago, and am eager to see the adobe house they were working n last year.
Mid week, I am exploring the western side if New Mexico, possible visiting Gila Cliff Dwellings National Monument, or maybe a return to Chaco Canyon, camping a few nights. By the weekend I plan to visit my friend Mike Kelly in Durango (the dude lives on the river!). Then I am going back to visit friends Oogie and Ken (and their black welsh sheep) in Paonia, CO. I plan to take a swing home through Moab, and get the mountain bike out on the slick rock.
All subject to whim. But Red Dog is ready to roll, so I better get going soon

creative commons licensed ( BY-SA ) flickr photo shared by cogdogblog